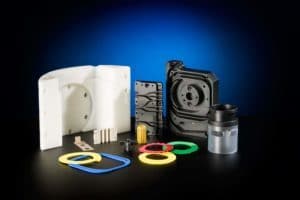 At Reading Plastic, we don't just machine your parts, we fabricate them as well. Our custom plastic fabrication services cover everything from snapping machined parts together to complex bending and threading. No matter how simple or intricate your fabrication needs are, our expert team delivers your parts quickly.
Our custom plastic fabrication services are a seamless step in our manufacturing process. By machining and fabricating your plastic parts in one place, you can greatly reduce production costs. Our fabrication services are also perfect for when you need a specialty plastic item, but don't have the staff or machinery to modify your machined parts. In this case, our team can become an extension of your own to help you achieve your goals.
The Benefits of Custom Plastic Fabrication Near You
Custom plastic fabrication offers numerous benefits over metal fabrication, including:
Fewer finishing processes – Unlike most metals, plastic can be colored before being fabricated, eliminating the need for extra post-fabrication steps, such as painting. This lowers production costs and speeds delivery.
Reduced weight – Plastics are a fraction of the weight of metal: most plastics are about six times lighter than zinc, half the weight of aluminum, and one-sixth the weight of steel. Lightweight parts provide greater ease of use and reduced fuel consumption.
Greater design capabilities – Advanced engineering plastics can be CNC machined into complex geometries, allowing multiple metal parts to be condensed into a single plastic part. Fewer parts means faster fabrication and lower part costs.
Faster production – Plastic machining and fabrication delivers fast cycle times and quick turnarounds, getting your parts to you faster. And because we are located within a day's drive of a one-third of the U.S. population, you can be certain your parts will arrive on time.
Chemical resistance – Plastics come with a wide range of chemical resistance to meet the unique needs of your application. Specialty plastics don't oxidize and rust like metals and can resist harsh chemicals and fluids (such as aviation fuel) without losing their properties.
Turn to Reading Plastic for Expert, Local, Custom Plastic Fabrication
Our skilled fabrication team has helped fabricate models and demonstration materials for medical device salespersons, trade show displays, machinery covers and much more. When you need ready-to-use parts and are facing tight deadlines, Reading Plastic is here to help. We specialize in:
Acrylic showcase displays
Bending
Bonding
FDA protective devices
Forming
Hot stamping
Secondary assembly diamond polishing
Threaded inserts
Welding hoppers
And more!
If you need custom plastic fabrication, call Reading Plastic today at (610) 926-3245 or email site2@readingplastic.com.