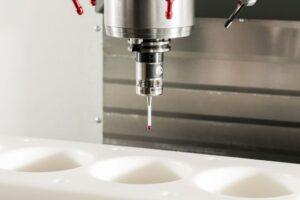 Looking for a company that consistently delivers high accuracy machining? Reading Plastic & Metal is your trusted source for manufacturing precision CNC-machined components on time and on spec. For over forty years, we have employed in-house expert staff, adhered to best practices and the highest industry standards, and operated state-of-the-art equipment in our impeccably maintained facilities to produce precision parts that always meet or exceed your expectations.
Reading Plastic & Metal guarantees that our parts will make your parts better. Our best-in-class machinists and programmers have mastered the most cutting-edge, innovative manufacturing methods to deliver precision parts with the tightest tolerances possible.
CNC Machining offers an unmatched level of accuracy and repeatability. Need to make a change to a part? No problem. CNC machining provides the flexibility to adjust production runs with a simple reprogram. With shorter lead and production times and the ability to economically produce small and large orders, CNC manufacturing delivers custom advanced plastic and metal parts quickly and affordably.
We machine durable, high-performance parts from advanced plastics, including PEEK, Ultem®, and Vespel®, to metals like aluminum, brass, copper, stainless steel, and titanium. Our in-demand CNC services include milling, routing, turning, and sawing to remove excess product and create durable, precision parts with tight tolerances and fast turnarounds.
At Reading Plastic & Metal, we offer even more high accuracy machining services to accommodate all your project needs, including:
Reading Plastic & Metal Delivers High Accuracy Machining
At Reading Plastic & Metal, our dedication to excellence is second to none. We proactively maintain our cutting-edge tools and equipment to ensure the sharpest cuts, tightest tolerances and best accuracy. Every part must pass a comprehensive, ISO 9001:2015-compliant quality inspection before shipping.
Our reputation for precision parts and complete customer satisfaction makes us a leader across industries. We are frequently called on by the military and companies across sectors like aerospace, oil and gas, medical, and food and beverage to deliver high-performance specialty parts that meet the strictest industry standards and regulations.
Ready to discuss your next project with a company with a reputation for high accuracy machining? Contact Reading Plastic & Metal today at (610) 926-3245 or site2@readingplastic.com today!