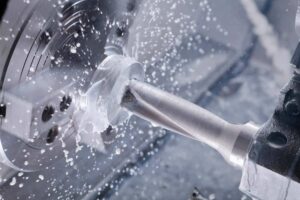 For over forty years, Reading Plastic & Metal has delivered precision parts to make your parts better. Our precision CNC machined components have the tightest tolerances possible and are durable even under the most extreme conditions. We machine precision parts from advanced plastics like PEEK, Ultem®, and Vespel® to metals, including aluminum, brass, copper, stainless steel, and titanium. Our state-of-the-art equipment and in-house expert programmers and machinists ensure that every project meets the highest industry standards and exceeds customer expectations.
The Benefits of CNC Machining
Offering a high level of repeatability and accuracy and the flexibility to make changes when needed, CNC machining can accommodate large or small runs in a timely, cost-effective fashion. Our CNC machining services include milling, routing, turning, and sawing to remove excess material and create precision parts with tight tolerances and fast turnarounds.
Why Choose Reading Plastic & Metal for CNC Manufacturing?
Some of the many reasons to use Reading Plastic & Metal for your next CNC machining project include:
Reading Plastic & Metal is Your Source for Precision CNC Machined Components
Reading Plastic & Metal works across industries to deliver precision parts that meet the highest standards and satisfy your project needs. We machine the most advanced materials to create intricate, durable parts with extreme accuracy and repeatability. With a commitment to quality in every aspect of our work, we are your one-stop shop for precision CNC machined components.
Looking for an experienced, dependable CNC machining company for your advanced parts? Contact Reading Plastic & Metal today at (610) 926-3245 or site2@readingplastic.com to discuss all your project needs.