Plastic plays a crucial role in the manufacturing of medical devices for modern healthcare. From large components of diagnostic equipment to delicate tubing used in surgical procedures, plastic is relied on for its durability and versatility. When it comes to implantable medical devices, only the best will suffice. Complex plastic medical parts must be produced with close tolerances and exceptional precision. Reading Plastic & Metal offers expertise in implantable medical device contract manufacturing with advanced equipment and highly-trained technicians. Our attention to detail ensures that the plastic parts we supply are always accurate and resilient.
Types of Implantable Medical Devices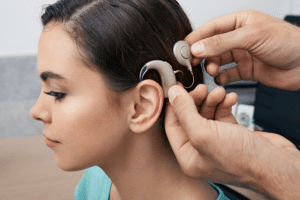 Artificial joints: A few common artificial joint replacements include hip and knee replacement. These parts are usually made from a strong plastic, often polyethylene.
Cardiac implants: Some common examples of cardiac implants include cardioverter defibrillators and pacemakers. Both of these devices help restore and maintain heartbeat rhythms.
Cochlear implants: These electronic hearing devices are comprised of an external microphone, sound processor, transmitter system, and internally implanted receiver and electrode system to assist individuals with hearing loss.
Intrauterine contraceptive devices: IUDs are placed inside the uterus to prevent pregnancy. These are often made of plastic.
Unblock and repair arteries – One of the greatest advancements in cardiology is the expanded use of catheterization. With these long, thin tubes (catheters), doctors can clear arteries of obstruction with a tiny spiral-shaped implant called a vessel support.
Prosthetics and implants – Prosthetic limbs used to be cumbersome with a limited range of use. By utilizing  lightweight plastics and medical CNC machining, modern prosthetics offer greater levels of dexterity and usability, while greatly improving comfort for the wearer. Medical implants are also benefiting from medical CNC machining's ability to create small, complex parts.
Trust Reading Plastic & Metal for Implantable Medical Device Contract Manufacturing Jobs
Expert specialty plastic knowledge – We have decades of experience working with specialty plastics, and have learned hands-on how the materials perform in various settings.
Superior CNC machining – Our shop contains ultra-precise cutting tools, immaculately maintained machines, and the highest level of quality control.
High quality standards – At Reading Plastic, we ensure your plastic parts are manufactured correctly the first time, every time. We are ISO 9001:2008 certified and are experienced at holding to compliance standards upheld by the FDA. With state-of-the-art equipment, excellent training programs, and comprehensive quality inspections before shipping, you can be confident in the superior quality of our parts.
Rapid plastic prototyping – FDA compliance is a major consideration in plastic part design, and plastic medical device manufacturers can help you expedite the process. From being able to test multiple prototypes at once to producing your prototypes quickly and cost-effectively, plastic machining makes the prototype process smoother.
Fabrication services – We help assemble your machined parts into finished products with our custom fabrication services.
Fast delivery – Reading Plastic is conveniently located in Reading, PA, just outside Philadelphia and New York City, and within a day's drive of one-third of the U.S.
We're passionate and committed to playing an integral part in the medical industry to help save lives. If you need expert medical machining, call Reading Plastic at 610-926-3245 or request a quote today!