Lexan polycarbonate is an extremely tough, flexible thermoplastic that's often used for a variety of applications, from bulletproof glass to DVDs. At Reading Plastic, our state-of-the-art CNC machines can cut and shape Lexan polycarbonate to your exact specifications for high-quality end-use precision and performance. If you're looking for the best Lexan polycarbonate manufacturer, Reading Plastic & Metal is superior.
What is Lexan®?
Lexan is actually the name of a brand rather than an overarching type of plastic, though its dynamic properties have made it synonymous with the material itself. As mentioned, Lexan is a polycarbonate resin thermoplastic whose molecules are comprised of repeating subunits. Its claim to fame is the ability to withstand significant deformation without breaking. Some benefits of Lexan polycarbonate include: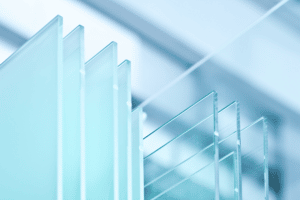 Impact resistant: high level of impact resistance, up to 250 times the impact resistance of glass and 30 times of acrylic.
Flexible: can be bent, drilled, and reshaped without worry of any breakage or cracking
Heat resistant: can handle up to 290°F
Acid resistant: highly resistant to acids and chemicals such as gasoline
Low level of flammability: withstands heat without catching fire
Machining with Lexan Polycarbonate
Polycarbonate's high performance properties make it one of the most widely used engineering thermoplastics in demanding applications. There are a variety of polycarbonate grades available with unique traits to meet your specific needs.
To get the most from your Lexan polycarbonate parts, you need to choose a machine shop that excels at tight tolerances. At Reading Plastic, tight tolerances are our wheelhouse. Clients in a variety of demanding industries have been depending on our precision parts for decades. We offer a full range of CNC machining services, with our CNC milling machines capable of producing complex geometries, tolerances of +/-.001, and surface finishes as smooth as 15Ra. And we are constantly adding to our state-of-the-art fleet of machines to better serve our clients needs. For example, the Miyano BNA-42S CNC turning machine allowed us to produce a part for our client with tolerances of +/-.0002 with no sharp edges and 100% burr free. Our client had tried getting the part machined to these tolerances before, but only Reading Plastic could get the job done.
Reading Plastic is Your Lexan Polycarbonate Manufacturer
At Reading Plastic, our precision machines can turn out hundreds to thousands of identical parts fast, meeting your needs no matter how large the order or how tight the deadline. We can create the dependable polycarbonate parts you need, from industrial equipment and housing components to electrical insulators and connectors.
Have a project in mind? Contact us today at (610) 926-3245 or email site2@readingplastic.com. We look forward to working with you.