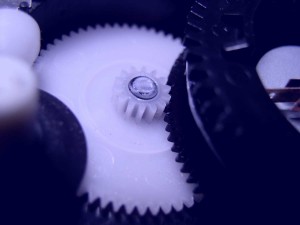 Low-friction plastics, or those that perform well in friction and wear applications, are rapidly replacing metal in parts like bearings, gears, cams, slides, bushings, rollers, and more. The widespread adoption of low-friction, long-wearing plastics in bearing applications speaks to their numerous benefits.
Does your company depend on parts that hold up under pressure? In this blog, find out how machining your parts from a low-friction plastic could improve your operation.
Low-Friction Plastics: 6 Ways They Give You An Edge  
Eliminate secondary operations. External surface lubrication is expensive and time-consuming. With a low-friction plastic, you can keep your moving parts free of external grease and lubricants to enjoy time and cost savings—and keep your components cleaner.
Protect surfaces from marring and scratching. Combining plastics with friction- and abrasion-reducing additives offers protection from surface defects that could cause lost tolerance or non-compliance.
Resist oxidation and corrosion. Unlike metal parts, many low-friction plastics enjoy resistance to acids, bases and aqueous solutions. This means less frequent part failure and costly downtime.
Eliminate the slip/stick phenomenon with sliding parts. The slip/stick phenomenon, otherwise known as the stick-slip phenomenon, is the spontaneous jerking motion that can occur when two objects slide over each other. Wear-resistant plastics eliminate it—and the inefficiency and defects it can generate.
Reduce noise between mated parts. Parts that slide against each other with greater ease mean a smoother, quieter operation. Your employees and neighbors will thank you!
Select the plastic best fitted to your application. One of greatest advantages of using a wear-resistant plastic is the variety of materials available. This diverse selection means you can choose the one best suited to your application, whether the plastic must withstand gritty, abrasive environments (think sugar, sand, and coal), extreme temperature environments, or environments that require sliding wear against mating metal parts.
We're the Experts in Low-Friction Plastic Parts
The most common plastics used in these applications are PBT, PPS, PEEK, VESPEL, PET, Acetal, Nylon, and UHMW. Reading Plastic has experience machining parts from all of these and more—just look at our plastic distribution!
If your application requires a precise plastic part that stands up to wear, we're ready to offer you the solution. Get in contact with us at (610) 926-3245 for a free quote, or start by learning more about our experience machining parts for clients around the world.