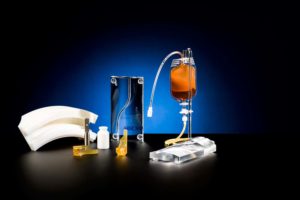 Modern medical devices utilize plastic components in joint replacements, lumbar disk replacement, implants, and interbody cages and instruments. Medical device machining is not without its challenges, particularly when it comes to the quality and cosmetic requirements of parts that will be used in the human body. Additionally, medical grade polymers require unique handling to achieve FDA standards.
How Reading Plastic Helps You Overcome the Challenges of Medical Device Machining
Challenge #1: Specialty plastics offer the unique properties that medical devices require, but specialty plastics are expensive and difficult to machine.
Solution: At Reading Plastic, we have decades of experience machining the most technical plastics, including high-strength PEEK and a variety of biocompatible plastics. Our extensive knowledge of how these plastics behave in real-world situations allows us to help clients choose the best plastic for their application. Our fleet of state-of-the-state machines and skilled technicians allow us to machine your parts correctly the first time and minimize waste, keeping material costs low. We can also handle any volume production, allowing you to place small orders and avoid having to buy expensive specialty plastics in bulk.
Challenge #2: Medical devices require superior surface finishes and tight tolerances to ensure patient comfort and safety.
Solution: Medical devices intended for internal use (such as catheters and insulin pumps) need a very smooth surface finish to prevent any unnecessary friction. Additionally, these devices must meet very strict size requirements in order to function properly. Our meticulously maintained CNC machines allow us to produce parts with tolerances of +/- .001 and surface finishes as smooth as 15Ra.
Challenge #3: When developing a new medical device, every aspect of the design must meet strict FDA standards, a process that can take years if things go wrong.
Solution: If the FDA rejects a design, the process must begin again entirely—meaning the FDA will not accept the same design twice, even if you've altered it in hopes of attaining compliance. But because CNC machined prototypes can be produced quickly and cost-effectively, you can test multiple prototypes at once. This improves your chances of having a design approved and avoiding going back to the drawing board, speeding up the process. Furthermore, medical device machining allows you to machine prototypes from the same material as the final product, giving doctors testing the prototype a true feel for the final product. This cuts down on false information related to divergences between prototypes and final designs.
Medical Device Machining from the Pros
At Reading Plastic, we have extensive experience machining medical devices according to strict FDA and client standards. All our parts must pass a thorough quality assurance testing process, including 3D measurement, optical comparator review, digital microscopic review and more, before shipment, and we are ISO 9001:2008 compliant. If you have a project in mind, call us today at 610-926-3245.