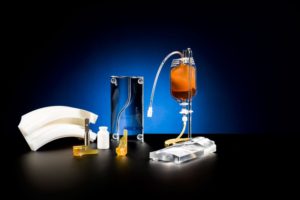 The demand for medical plastic parts has increased in recent years due to both advances in medical treatment and care and changes to the healthcare system. Sterilization requirements for medical equipment and devices have become more rigorous in recent years as Medicaid and Medicare reimbursements are reduced for hospitals with higher-than-specified hospital-acquired infections. The increased use of aggressive disinfectants demands medical plastic parts that can withstand such treatment without cracking or failing. Furthermore, the healthcare industry nationwide is beginning to focus more on outpatient care and trying to decrease the amount of in-patient care required. As a result, manufacturers of medical devices are having to create compact, intuitive equipment that patients can use at home while still meeting FDA standards.
Finding a medical plastic parts provider that can navigate the complex needs and regulations of the healthcare industry is paramount to the success of your products. As experts in plastic machining for more than three decades, Reading Plastic has the experience and capabilities to deliver the precise plastic medical parts you need.
What to Look for in a Medical Plastic Parts Provider
Expert knowledge of medical grade plastics – Whether you need biocompatible plastics for feeding tubes and catheters or a high-strength plastic that can withstand repeated sterilization, the experts at Reading Plastic can source and machine the right plastic for the job. Our advanced CNC machines can cut even the most technical plastics, and our decades of experience give us hands-on knowledge of how the materials perform in all sorts of settings.
Ability to hold tight tolerances – Medical professionals rely on the accuracy of their instruments and devices to deliver the best possible care to their patients. As an industry leader in tight tolerance machining, we pride ourselves on our ability to machine parts that hold precise tolerances of +/- .001".
Precision, quality machining – With our state-of-the-art machines and knowledgeable staff, Reading Plastic has been providing clients with high-end, precision machined plastic parts for over three decades. We keep up with the ever-changing needs and regulations of the medical industry to ensure our medical plastic parts meet your exact needs and specifications.
Rigorous standards and quality control – As an experienced medical plastic parts provider, we have been machining to strict FDA standards for decades. We are also ISO 9001:2008 compliant, and all of our jobs undergo a thorough quality assurance testing process, including 3D measurement, optical comparator review, digital microscopic review, and more.
If you need an expert medical plastic parts provider, call Reading Plastic today at 610-26-3245!