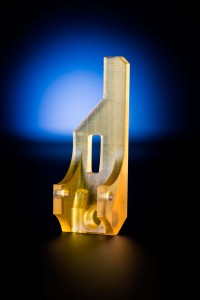 Manufacturers across all industries are converting gears and other parts that have traditionally been metal into plastic. We've discussed some of the main advantages of metal-to-plastic conversion before, but here's a refresher:
Elimination of lubrication. Metal parts often require expensive, time-consuming lubrication to prevent wear over time. On the contrary, many specialty plastics can replace such parts and gears to eliminate the need for lubricant. This is especially useful in the food & beverage industry, where food-grade lubricant costs are steep and application time-consuming.
Faster operation of equipment. Because custom plastic parts are often smaller and lighter than their metal counterparts, they can improve the operating speed of the equipment in which they're installed. Furthermore, because custom plastic fabrication can consolidate multiple metal parts, metal-to-plastic conversions may streamline operations and result in greater expediency.
Inertness and corrosion resistance. Specialty plastics are exceptionally inert, meaning they can be selected based upon their lack of response to the chemicals present in their manufacturing environment. Due to their corrosion resistance, even plastics exposed to harsh contaminants retain their functionality over time.
Longer part life. The advanced properties of specialty plastics also mean they last longer than their metal counterparts, potentially lowering the frequency of costly breakdowns and the expense of replacement.
Less power to run equipment. Because plastic parts are lighter and smaller, often times the equipment in which they're installed is less expensive to fuel. Reductions in power costs may be small but significant over time.
Once you've determined metal-to-plastic conversion would be a worthwhile investment for your operation, the next step is selection of materials. The best thing to do is consult with plastics experts who are intimately familiar with the latest engineering plastics available. An expert can take stock of your goals for the new part and determine the most appropriate plastic to employ.
Nonetheless, we'll share a few of the parameters that go into the decision of which engineering plastic to choose.
Metal-To-Plastic Conversion: Parameters to Consider When Selecting Materials:
Type and magnitude of the stress parts will endure
Temperatures parts will experience while subjected to stresses
Maximum load and deflection conditions
Wear limitations
Types of materials to which parts will mate
Possibilities for consolidating parts
Fatigue and creep constraints
Any impact requirements
Weatherability requirements
As you can see, the choice of material is complicated, and can be made further so by your budget for the project. In many cases, however, a plastics expert can lay out a few options of engineering plastics that would fit for your particular project. There are innovations every year in the world of specialty plastics, so it could be that a new material has just been invented that would suit your needs.
Consult Our Plastics Experts About Metal-To-Plastic Conversion
Reading Plastic Machining & Fabrication has partnered with clients in every industry to supply the custom plastic parts they need on time and on budget. We'd be happy to lend you our expertise in determining the best material for your metal-to-plastic conversion.
Give us a call at 610-926-3245 to discuss your project. You can also reach us via site2@readingplastic.comor by filling out our contact form.