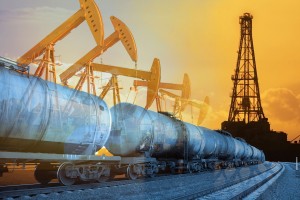 Oilfields, petrochemical processing plants, offshore drilling rigs: When it comes to oil & gas parts, the conditions they must endure are as severe as it gets. Anyone with experience in the industry knows this equipment must withstand temperatures, pressures, and chemicals that corrode most materials fast.
It's no surprise, then, that high-performance polymers have enhanced many oil & gas parts. Combining unique resistance to a variety of stressors, these advanced plastics are becoming omnipresent in parts like seals, connectors, bearings, insulators, pump heads, pressure heads, brackets and sleeves. The most commonly used plastics coming into play are PEEK, PPS, PVDF, and Ultem.
While an investment, machining oil & gas parts from these high-end plastics offers distinct advantages. Here are three reasons to consider swapping your metal parts for plastic, especially for down-hole parts that require frequent replacement.
Oil & Gas Parts Are Better In Plastic 
Wear Resistance: Especially in contact with metal surfaces, plastic bearings are popular because they wear at a very low rate, even under high pressure. In addition, many are self-lubricating, avoiding further cost and inconvenience. PEEK is a common choice for oil & gas applications involving high temperatures, loads and speeds.
Chemical Resistance: Unlike their metal counterparts, advanced plastics like PVDF and PEEK offer excellent resistance to harsh chemicals. PVDF in particular performs well in applications that put it in contact with hot acids at a wide range of concentrations. By adopting an advanced plastic for your part, you're potentially slashing downtime caused by part corrosion and failure.
Temperature Resistance: PPS can be machined to close tolerances with a maximum service temperature of 218 degree C. That makes it tough enough to withstand the rigors of many oil & gas applications. Similarly, Ultem offers high strength and rigidity at very high temperatures, while inherently resistant to a broad range of chemicals.
Your Plastic Machining Experts
Looking to machine precise parts for oil & gas applications? Reading Plastic has a long history of solving problems through precise plastic parts, with clientele spanning the globe. Contact us today for a free quote at (610) 926-3245 – we're confident we can provide the plastic machining solution you need.