For decades, companies, organizations, and the military have been relying on Reading Plastic & Metal for expert plastic parts production. Our wheelhouse is tight tolerance machining, but we also provide custom fabrication services, die c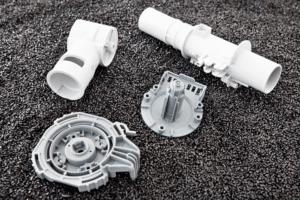 utting and stamping, OEM replicate parts, postprocessing for 3D printed parts, and precision CNC machining of the most advanced engineering plastics. If you've searched, "plastic parts manufacturers near me," look no further– Reading Plastic & Metal is the obvious choice for any project!
Plastic Part Production Services
Within our high-end machine shop you will find immaculately maintained machines, ultra-precise cutting tools, and the highest level of quality control. We offer a full range of CNC services, as well as die stamping and cutting, custom fabrication, and OEM parts production.
CNC milling – CNC milling machines utilize a cutting tool that moves vertically, horizontally, and diagonally, allowing them to create a wide array of parts, including ball joints, brackets, spindles, and much more.
CNC turning – When it comes to our CNC turning services, we excel in multi-axis lathe work and holding extremely tight tolerances.
CNC sawing – Our state-of-the-art CNC saws combine ultra-fast cutting speed and pinpoint accuracy to deliver perfectly shaped pieces on tight deadlines.
CNC routing – CNC routing is an excellent way to produce high volumes of precise, identical plastic parts quickly. With some of the best router capabilities on the east coast, our routing services are known for fast cycle times and consistently accurate results.
Die stamping and cutting – This process allows for the creation of extremely thin products that can hold tight tolerances at high volumes. With our precision die cutting and stamping services, we can produce extremely precise identical parts, such as washers, gaskets, seals, insulators, graphics, and more.
Fabrication services – Our fabrication team can quickly turn your machined plastic parts into assembled, finished products.
OEM replicate parts – Avoid costly delays due to backlogged or discontinued OEM replacement parts with replicate parts. Replicate plastic parts have the same quality and fit as OEM parts to get your critical machinery up and running quickly.
Why Reading Plastic & Metal?
State-of-the-art equipment – At our shop you will find immaculately maintained machines, ultra-precise cutting tools, and the latest technologies. We are constantly increasing our capabilities to better serve our clients, such as expanding our fleet of machines to increase efficiency for both small to medium production runs as well as mass production.
Extensive material selection – We offer a wide range of plastic materials, including specialty plastics designed for harsh environments and demanding applications. Our staff has hands-on knowledge of how these materials perform in a variety of settings, and we share that knowledge with our clients to help you choose the right material for the job.
Commitment to quality – At Reading Plastic, we have been machining to strict standards for decades, including FDA, Department of Defense, and FAA standards. All of our parts must pass a comprehensive, ISO 9001:2015 certified quality inspection before shipping, and we offer superior post-sales support to ensure our parts meet all your needs and specifications.
Looking for "Plastic Parts Manufacturers Near Me?", Trust Reading Plastic & Metal
For reliable, precision plastic parts, call Reading Plastic today at (610) 926-3245, or email us at site2@readingplastic.com. No matter the application, our experts can machine the solution.