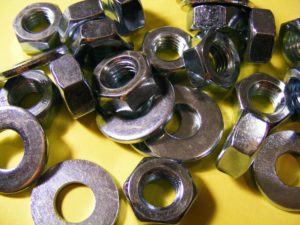 Stainless steel turned parts can be found in nearly every industry, providing strength and corrosion resistance to automotive parts, storage containers, tools, and more. Stainless steel is a steel alloy that contains at least 10% chromium. The addition of chromium creates an immaculate surface finish and exceptional corrosion resistance superior to that of carbon steels. It's key properties include:
High strength
Excellent heat resistance
Excellent corrosion resistance
Superior impact resistance
Self-protective
Typically doesn't require surface finishing
Stainless steel turned parts are produced through CNC turning, a process in which material is cut to create round shapes. At Reading Plastic, we specialize in multi-axis lathe work that holds tight tolerance standards, up to .001″. We also offer precision threading in ANSI, ASME, metric and variable pitch threads.
Types of Stainless Steel
There are five types of stainless steel:
Austenitic – This type is non-magnetic, highly formable, and corrosion resistant, although prone to stress corrosion cracking. It can be cold worked, but not heat treated. It is typically used for bolts, nuts, bushings, valves, and aircraft fittings. Austenitic stainless steels are 200 or 300 series, including 304, the most common stainless steel alloy, and 309. Stainless steel 309 is ideal for high-temperature applications up to 1900°F and is stronger than 304 and has better corrosion resistance. It is also relatively easy to machine.
Ferritic – This type is magnetic and has lower ductility and corrosion resistance than austenitic grades. It has a high resistance to stress corrosion cracking and is often used to make heat exchangers, furnace components, and automotive fasteners. Ferritic stainless steels are 400 series, including 409 which maintains excellent corrosion resistance at high temperatures and is easily machined. Stainless steel 409 is used to make agricultural spreaders, catalytic converters, and exhaust pipes.
Martensitic – Both magnetic and heat treatable, this type has higher strength but lower corrosion resistance than ferritic grades. It is commonly used in aircraft fittings, jet engine parts, rivets, and bushings. Martensitic stainless steels are found in the 400 and 500 series, such as 410, which contains 11.5% chromium. This makes it exceptionally resistant to corrosion from chemicals and acids. Stainless steel 410 is typically used for nuts and bolts. surgical instruments, and petroleum refining equipment.
Precipitation Hardening Grade – These grades are heat treatable and generally have much higher strength than austenitic types. They also retain much of their strength in high temperatures. Often referred to as PH Type stainless steel, they are often used to make military equipment and aircraft structural components.
Duplex – A hybrid of austenitic and ferritic steels, duplex stainless steels feature exceptionally high strength and stress corrosion cracking resistance. They are found in UNS grades and are often used to make chemical processing equipment and pressure vessels. A common duplex stainless steel, S32550, is known for high corrosion resistance and impressive strength. It is frequently used in marine equipment, pumps and shafts.
We're Ready to Machine Your Stainless Steel Turned Parts!
Reading Plastic is your go-to source for precise, durable stainless steel turned parts. We are a high-end machine shop that produces CNC machined parts from a variety of materials, from specialty plastics to metals such as copper and stainless steel. If you need reliable, high performance stainless steel turned parts, call us today at 610-926-3245, or email us at site2@readingplastic.com.