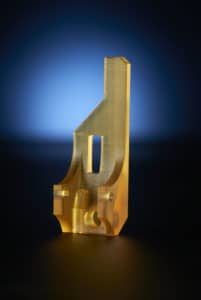 At Reading Plastic, we have decades of experience machining the most advanced and technical plastics, including Ultem®. One of the most dimensionally stable thermoplastics on the market, Ultem® has a unique balance of mechanical properties and processability which provides superior flexibility and design freedom. With many characteristics similar to PEEK (and a lower cost), Ultem® is easily machined into high performance parts for a variety of key industries, including medical, semiconductors and aerospace. As an experienced Ultem® manufacturer, we deliver the expertise, precision, quality, and dependability your parts need.
The Key Properties of Ultem®
Predictable strength and stiffness up to 200ºC/392ºF
One of the highest dielectric strengths of any thermoplastic material
Excellent fatigue and stress cracking resistance
Inherently flame resistant in most grades, exceptionally difficult to ignite, and generates extremely low smoke
Broad chemical resistance including aircraft and automotive fluids, alcohols, acids, and more
Outstanding electrical properties, with one of the highest dielectric strengths of any thermoplastic material
Superior hydrolysis resistance
Excellent dimensional stability
Great processability
Standard Ultem® (Ultem® 1000) is the general-purpose, unfilled grade. It offers high heat resistance, is resistant to UV and gamma radiation, and excels in hot air and water environments. (Ultem® retains 85% of its tensile strength after being immersed in boiling water for 10,000 hours and 100% of its tensile strength after 2,000 cycles in a steam autoclave at 270°!)
Ultem® also has dozens of grades available that offer enhanced properties for specialized applications. For example, Ultem® HU1000 is biocompatible and food contact compliant, while Ultem® CRS5001 has enhanced chemical resistance to strong acids, bases, aromatics, and ketones. Other grades have improved ductility and enhanced hydrostability, improved low temperature impact, or are very low outgassing.
The Challenges of Ultem® Manufacturing
The most popular filled grade of Ultem® is Ultem® 2300, which is 30% glass filled. The addition of glass fibers provides greater tensile strength, strength-to-weight ratio, stiffness and dimensional stability, while maintaining many of the useful characteristics of basic Ultem®. Glass-filled plastics, however, are some of the most difficult plastics to machine and require special tools and training to produce a high-quality product.
The chief problem is that glass-filled plastics are extremely abrasive and can cause cutting tools and inserts to wear quickly. Additionally, if the proper speed is not maintained when cutting these plastics, they become prone to delamination. Special biohazard considerations must be taken into account as well and the right coolants must be chosen to preserve the integrity of the plastic. At Reading Plastic, our state-of-the-art machinery and decades of experience allow us to precisely machine Ultem® and other glass-filled plastics.
Reading Plastic: Your Expert Ultem® Manufacturer
When you need an experienced Ultem® manufacturer, turn to the experts at Reading Plastic. We are known for precision and tight tolerance machining, and all of our parts must pass a comprehensive, ISO 9001:2008 compliant quality inspection before shipping. If you have a project in mind, call us at (610) 926-3245 or email site2@readingplastic.com.