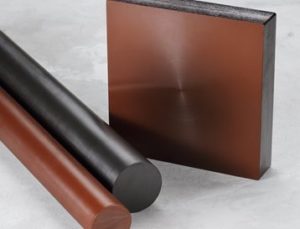 When it comes to critical aircraft parts, you must have confidence in their consistency, safety, and longevity. That is why aviation experts are increasingly turning to high-end plastics to make those critical parts. Vespel® is one of the top choices for aircraft parts because it offers superior performance that even most high-end materials can't match.
Vespel® by DuPont combines the best properties of ceramics, metals and plastics into one. The product family includes five types of high-performance polymide resin and is characterized by its ring-shaped molecular structure containing nitrogen. While Vespel® parts come at a high cost, they pay for themselves in reduced maintenance costs, increased reliability, and extended operating life.
The Properties and Benefits of Vespel® for Critical Aircraft Parts
Excellent compressive properties – Vespel® has a high elastic limit, high deformation capability, and is non-brittle. This makes for easy assembly with no breakage and parts that meet sealing compliance.
Thermal insulation – Vespel® is perfect for protecting other components from thermal damage.
Wear and friction problem-solver – With a low wear rate and a low, constant CF, Vespel® increases the lifespan and reliability of parts while reducing power consumption and warranty costs.
Chemical compatibility – Vespel® shows no effect in response to fuels, solvents, industrial hydraulic fluids, oil, and numerous other materials. This makes it the perfect choice to replace parts prone to corrosion.
Machinability – With a machinability similar to brass, Vespel® can achieve quality 7 tolerances, and prototypes can be produced quickly. This also means that complex geometries and tight tolerances can be achieved with secondary machining.
Temperature resistance – Vespel® can function continuously at temperatures up to 550ºF, and can even endure temperatures up to 900ºF for limited periods. These means it can function in the hottest areas of an engine and withstand all assembly processes. Vespel® parts also improve safety by reducing the risk of failure in high-temperature environments.
Polymer – As a lightweight polymer, Vespel® can reduce weight and has low inertia for movable components. It is also beneficial for vibration dampening and noise reduction.
Impact resistance – Vespel®'s toughness is suitable for high-frequency vibration and mechanical abuse.
Low friction – For applications in which interfacial temperatures are high or require sliding contact with or without lubrication, Vespel® provides superior wear performance. Vespel® parts can run dry should lubrication fail, increasing the safety margin in case of misuse. It also reduces contact area, allowing for smaller part size.
Electrical insulation – Vespel® parts retain good electrical properties at high temperatures.
Reading Plastic: Specialized in Machining Vespel® Parts
The experienced team at Reading Plastic Machining & Fabrication can produce all your Vespel® parts, including:
Thrust washers
Seal rings
Valve seats
Bushings
And more
As a military spare parts supplier, we are experienced in machining custom Vespel® parts for a variety of applications. Our parts meet all Aviation and Department of Defense Standards. Call us today at 610-926-3245 to learn more about Vespel® and its benefits.