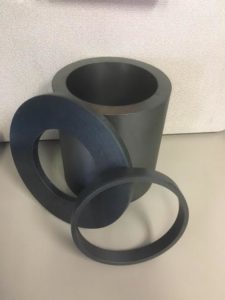 Heat resistance. Chemical resistance. Dimensional stability. Lubricity. Creep resistance.
When it comes to superior performance, most high-end materials can't surpass Vespel® by DuPont.
Vespel® is a product family that includes five types of this high-performance polymide resin, characterized by its ring-shaped molecular structure containing nitrogen. Combining the best properties of ceramics, metals and plastics into one, Vespel® machined parts offer unique strengths for major performance and cost benefits.
As a renowned provider of Vespel® machining, we're familiar with what makes this high-end plastic worth its cost. In this blog, we'll describe why Vespel® can deliver in the most extreme applications.
We Offer Vespel® Machining for Unparalleled Performance Reliability
Vespel® offers proven reliability in applications for aerospace, electrical insulators, semiconductors, transportation technologies, bushings and beyond. Custom Vespel® parts withstand the toughest environments due to these advanced properties:
Serves at temperatures up to 288°C (550°F) in many applications
Can endure temperatures of 482°C (900°F) for limited periods
Exceptionally clean with extremely high purity, negligible trace metal content and virtually no particulate shedding in plasma
Strength toughness to withstand cleaning cycles, mechanical abuse, repeated handling, etc.
High resistance to chemical attacks, showing no effect in response to fuels, solvents, industrial hydraulic fluids and numerous other materials
Holds close tolerances compared with other polymers
Low friction and superior wear performance for applications where interfacial temperatures are high or require sliding contact with or without lubrication
Excellent dielectric properties for superior electrical insulation
Despite their cost, Vespel® components often pay for themselves by increasing reliability, reducing maintenance costs, and extending operating life. Vespel® can be used in new designs that would be impossible with lesser materials, or in components of older designs that have resulted in costly failures. Its excellent machinability makes it possible to use for a variety of parts and shapes.
Machining Vespel® Parts Is One of Our Specialties
When it comes to choosing a partner for Vespel® machining, it's important to look for a team with a history of success.
At Reading Plastic, we boast ample experience machining custom Vespel® parts for an array of clients. You can count on us to machine Vespel® components to tight tolerances, on time and on budget. Furthermore, we work with orders of any size, so there's no need to worry about meeting a manufacturer's threshold.
Let's talk solutions. Give us a call at 610-926-3245 or fill out our contact form, and we'll be happy to weigh in with our expertise.