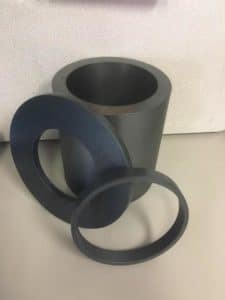 What is Vespel®? When it comes to advanced industrial plastics, Vespel® runs at the head of the pack. From bearings to critical aircraft parts, this highly durable polyimide can withstand the harshest operating conditions on the planet, thanks to its advanced properties. If you need a plastic that provides excellent, reliable performance in extreme applications, Vespel® is the right choice.
What is Vespel®?
Vespe® is a high-performance polyimide resin that is characterized by its ring-shaped molecular structure containing nitrogen. It combines the best properties of ceramics, metals and plastics into one, offering unique strengths for major performance and cost benefits. It can be used as a lightweight alternative to metal, and is often used in high-heat environments where thermoplastic materials lose their mechanical properties. Vespel®'s outstanding properties include:
High temperature performance – Vespel® has excellent dimensional stability and continuous use up to 550ºF and intermittently up to 900° F
Does not become brittle even at subzero temperatures (-400° F)
Can operate at extremely high PVs – It has the highest unlubricated pressure-velocity (PV) limit performance of any engineered plastic (.29 -3.5 MPa-m/s.)
Low outgassing – Vespel® is flight approved by NASA and the US Air Force
High resistance to chemical attacks – Shows no effect in response to fuels, solvents, industrial hydraulic fluids and numerous other materials
Exceptionally clean with extremely high purity, negligible trace metal content and virtually no particulate shedding in plasma
Excellent dielectric properties for superior electrical insulation – Has minimal electrical and thermal conductivity
High mechanical strength and stiffness – Can withstand cleaning cycles, mechanical abuse, repeated handling, etc.
Low coefficient of friction and superior wear performance – Especially for applications where interfacial temperatures are high or require sliding contact with or without lubrication
With exceptional performance under load and at high temperatures, Vespel® is also:
Easily machined to hold close tolerances
Melt-resistant and flame retardant
Hydrolysis resistant
Radiation resistant
Creep resistant
What is Vespel® Used for?
Vespel® parts are commonly found in automobiles, jet engines, semiconductors, military equipment, and heavy-duty off-road equipment. Vespel® parts can endure the most extreme environments, from deep space to reactor chambers. It is also one of the most commonly used engineering plastics in the aerospace industry: nearly every jet engine made in the Western World contains Vespel® parts.
Bearings
Bushings
Gaskets
Insulators
Piston rings
Seal rings
Thrust washers
Valve disks
Washers
Machining Vespel® Is One of Our Specialities
Our skilled team has ample experience machining custom Vespel® parts for an array of clients. We ensure your Vespel® parts are machined to tight tolerances, on time and on budget. We also work with orders of any size, so there's no need to worry about meeting a manufacturer's threshold. For more information, call us today at 610-926-3245 or send an email to site2@readingplastic.com.