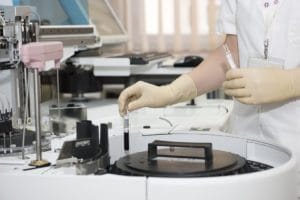 PPS (polyphenylene sulfide) is a semicrystalline material that is often used for applications that involve exposure to corrosive chemicals at elevated temperatures. That is because PPS material offers the broadest resistance to chemicals of any advanced engineering plastic, with no known solvents below 392°F (200°C). Combined with outstanding mechanical properties and excellent resistance to hot water and steam, it is no wonder that PPS is often used as a lower cost alternative to PEEK at low to moderate temperatures.
PPS Materials Offer Advanced Performance
First discovered in 1888, PPS' potential as an engineering polymer with commercial importance wasn't realized until the 1940s, and the first successful manufacturing operation wasn't established until 1973. Advances in PPS material improved both its processing and mechanical properties, and with its excellent heat and chemical resistance there was increasing demand for the polymer.
PPS materials have an excellent balance of properties that make them outstanding performers at moderate temperatures. In addition to high dimensional stability and flowability PPS materials offers:
Outstanding chemical resistance – inert with strong bases, fuels and acids and second only to fluorinated polymers such as PTFE
Excellent hydrolysis resistance and very low moisture absorption
High heat resistance – continuous use at 200°C or higher and a melting point of 280ºC
High dielectric strength
Advanced electrical properties – under high heat, high humidity, and high frequencies
Inherent flame retardancy – making it ideal for high temperature electrical applications
Self-extinguishing – without the addition of any flame retardant chemical additives
Very low coefficient of linear thermal expansion
High tensile strength (12,500 psi)
Excellent strength and stiffness
High modulus when reinforced
Excellent strength and stiffness – maintained over wide temperature ranges
PPS does have some limitations, including an inherent brittleness. PPS must have fibers and reinforcements to overcome this brittleness, but these fillers makes a difference in the strength, surface properties, dimensional stability, electrical properties and overall cost.
However certain grades of PPS material, particularly Techtron® PPS, are ideal for producing tight tolerance machined components. Techtron® maintains excellent chemical resistance and essentially zero moisture absorption, making it perfect for structural applications in corrosive environments or to replace PEEK at lower temperature applications.
PPS material is most commonly used for:
Scientific instrumentation parts
Pump and valve components
Seals
Semiconductor machinery parts
Electrical components
Bearings and bushings
For Precisely Machined PPS Components, Call Reading Plastic
With over 30 years of experience, the experts at Reading Plastic can help you choose the right grade of PPS material for your project, machining your components to hold tight tolerances and delivering your parts on time, every time. If you have a project in mind, contact us today to request a quote.