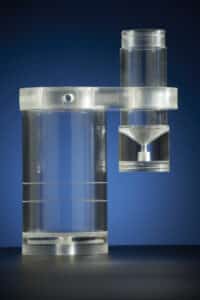 As a top acrylic manufacturing company with experience in a plethora of industries, we understand the importance of finding the perfect material for your project. One of the most common forms of acrylic machining services is the process of acrylic fabrication. A few of the areas where we provide specialty acrylic machining services include models and demonstration materials for medical device salespeople, display cases and architectural details for builders, schools and hospitals, FDA protective devices, trade show displays, machinery covers, tanks, and guards, signs and displays, and washdown systems and components. Our decades of experience and genuine passion for the industry make Reading Plastic & Metal the easy choice for your acrylic needs. We also supply the best Lexan polycarbonate manufacturing if your project sees fit.
Benefits of Acrylic Machining Services
Acrylics are polymers of methyl methacrylate (PMMA). Here are a few reasons why our clients choose acrylics:
Clear. Acrylics can be manufactured to be crystal clear like glass, ensuring complete visibility while staying protected.
Lightweight. Despite looking like glass, acrylics weigh far less.
Customizable. The customization possibilities with acrylics are vast. In addition to their potential to be molded into many different shapes, you can make your acrylics glow with LED lights or add color, tint, pattern, or mirroring. Not to mention more practical customization possibilities such as extra finishes protecting against scratches and fingerprints.
Tough & impact-resistant. If you're displaying high-value products like medical devices or electronics, the protection of your merchandise is vital. The toughness and impact resistance of acrylics makes them ideal for secure locking cases or security screens. Protect your merchandise from accidents or foul play without detracting from their visibility.
Easy to mix & match. Once you've added acrylic components to your display, they're easy to mix and match to create entirely new visuals and maximize your investment.
Acrylic Machining Services in Action
Acrylic machining services are used in some of the most important industries to provide efficient, safe material for your project's needs. When it comes to oil & gas parts, the conditions they must endure are as severe as it gets. Anyone with experience in the industry knows this equipment must withstand temperatures, pressures, and chemicals that corrode most materials fast. When it comes to the medical industry, high-end acrylics are used for models and demonstration materials to showcase medical devices. The number one priority in the medical industry is safety, making acrylic's protective properties ideal for the environment.
Acrylic Machining Services at Reading Plastic & Metal
Reading Plastic has a long history of solving problems through precise plastic parts, with clientele spanning the globe. Contact us today for a free quote at (610) 926-3245 – we're confident we can provide the plastic machining solution you need.