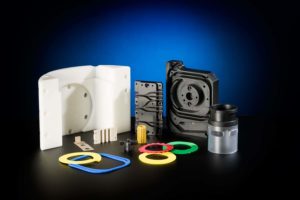 Have you been burned by "custom" parts before? All too often, suppliers simply grab a part they already have and modify it, rather than building a truly custom part from scratch. But this process can never produce a part that accurately meets your specifications and requirements. At Reading Plastic, our American-made custom machined plastic parts are always built from the ground up from raw materials, ensuring your custom parts are exactly what you ordered. And all of our parts must pass a comprehensive ISO 9001:2015 compliant quality inspection before shipping, maintaining our strict quality standards.
We Excel at Custom Machined Plastic Parts
At Reading Plastic, we specialize in high-quality, precision machined plastic parts that hold tight tolerances and meet all your end-use requirements. You can depend on our excellent quality and service, no matter how complex or technical your part is. We can produce custom machined plastic parts from any advanced engineering plastic through CNC routing, turning, milling and sawing, as well as precision die cutting and stamping.
We ensure customer satisfaction by working with you through every step of the process, from choosing the right plastic material for the job all the way to post-sale support. We even offer design services to help you optimize your original designs and processes. We almost always find ways to improve production in keeping with your goals, whether you're looking for longer part life, tighter tolerances, lower part cost, faster delivery, or less waste. And we are capable of handling any size run you require, from prototyping and short runs to high volume production.
And because we are based solely in the United States, you have access to knowledgeable and prompt customer service in a nearby time zone. We are also within a day's drive of one-third of the U.S. population, allowing us to deliver your parts quickly – and without the expense of international shipping. We fine-tune our production schedules daily to make sure our parts are always on time, and we even offer rush production and delivery for critical situations.
When Quality and Precision are a Must, Choose Reading Plastic
At Reading Plastic, we have been delivering superior custom machined plastic parts to our customers for over three decades. Our clients know they can depend on us for the precision and quality their applications require. If you have a project in mind, contact us today at (610) 926-3245 or email us at site2@readingplastic.com. We look forward to working with you.