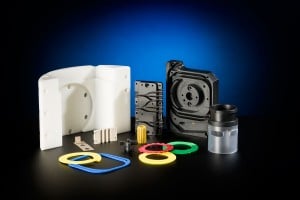 Custom plastic manufacturing provides companies with durable parts that help lower costs and speed production, increasing company profits. The speed of CNC custom plastic manufacturing means replicate parts can be delivered quickly, minimizing costly downtime. Replacing metal parts with plastic can also improve performance and extend part life. At Reading Plastic, we've produced dependable custom plastic parts for nearly every industry, from military to aerospace to waste treatment and more.
Why Custom Plastic Manufacturing Produces Superior Parts
Businesses have increasingly relied on custom plastic manufacturing because the unique properties of modern specialty plastics allow them to perform in some of the harshest environments on the planet. Although they are a fraction of the weight of metal, plastics offer equal or higher strength and stiffness. Advanced engineering plastics can perform in high heat applications without warping or losing structural integrity, and can also resist creep and deformation from impacts. Specialty plastics are also available that resist chemicals, acids, and radiation. Plastic components can be used to reduce electrostatic discharge or the need for lubrication, and in medical applications that require biocompatible properties.
CNC custom plastic manufacturing is also capable of producing precision parts that hold extremely tight tolerances (up to +/- .001) and incredibly complex designs. Often multiple metal or injection molded parts can be combined into a single CNC machined part.
Custom Plastic Manufacturing for Every Industry
At Reading Plastic, we have over three decades of experience machining dependable, precise parts for customers across the globe. Here are just a few of the custom plastic parts we can machine:
Oil and Gas
Semiconductor
Aerospace
Energy
Marine
Military
Trust Reading Plastic with All Your Custom Plastic Manufacturing Needs
Reading Plastic is a leader in tight tolerance and precision machining. Our state-of-the-art equipment and expert staff can produce any part you need from even the most technical plastics, including PEEK, Ultem®, Vespel®, Torlon®, PTFE, PEI, and Celazole® PBI. If you have a project in mind, contact us today at 610-926-3245 or email site2@readingplastic.com. No matter how demanding your application, we can machine you a solution.