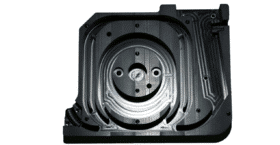 As of 2018, the semiconductor industry was valued at over 481 billion USD and it continues to see rapid growth due to the ever-increasing demand for electronics in nearly every industry. Plastic is a great choice for semiconductor trays because specialty plastics offer excellent chemical and thermal resistance as well as antistatic properties. At Reading Plastic, we machine precise, durable semiconductor trays to keep your valuable components safe.
The Benefits of Plastic Semiconductor Trays
Contact Reading Plastic Today to Discuss Your Semiconductor Tray Needs
At Reading Plastic, we have decades of experience machining a wide selection of materials for the semiconductor industry. We work with a wide range of materials, and our knowledge staff can help you select the right plastic for your project. Whether you are looking to make a prototype or need a large production run, we are equipped to handle your plastic component needs. We are ISO 9001:2008 compliant and follow strict quality control guidelines to ensure your parts meet all specifications and requirements.
Give us a call at 610-926-3245 to discuss your project. You can also reach us via site2@readingplastic.com or by filling out our contact form.