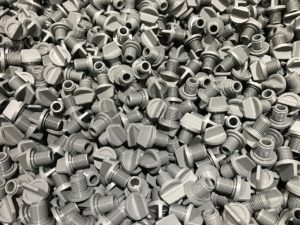 The process of how to get plastic parts made involves four basic steps: come up with a design, decide on a manufacturing process, build a prototype, and then produce the design. Choosing an experienced plastic parts manufacturer who can provide support and feedback through every step of the process increases your chance of success. At Reading Plastic, we've been helping clients turn their plastic part designs into finished products for over three decades.
How to Get Plastic Parts Made in Four Simple Steps
Come up with a design – The design process isn't simply sketching up your idea for a part. You must also consider tolerance requirements, material selection, and end-use factors that could affect performance (such as high temperature environments or exposure to corrosive chemicals). At Reading Plastic, we offer in-depth consultations with our experienced staff to enhance your original designs. We almost always find a way to improve production without sacrificing quality. You let us know your goal – longer part life, less waste, faster delivery, etc. – and we'll come up with a solution.
Choose a plastic manufacturing process – There are three main ways to manufacture a plastic part: CNC machining, injection molding, and additive processing (a.k.a., 3D-printing). While additive processing allows for a high degree of design freedom, it is notorious for poor surface quality and requires post-processing to achieve cosmetic standards and tight tolerances. 3D-printed parts are also limited in the types of plastics they can use. Injection molding has high start-up costs and long lead times, making it a poor choice if you need parts fast. Injection molding is also unable to produce complex geometries in a single part, requiring multiple parts to be produced and then fabricated together. CNC machining, on the other hand, can quickly produce complex parts with tight tolerances and superior surface finishes. There is also greater design flexibility with CNC machining as the machines can quickly be reprogrammed to produce the latest version of your part, minimizing downtime and outdated parts. And CNC machines can handle the most advanced plastics, including PEEK, Vespel®, and Ultem®.
Build a prototype – Prototypes are the crucial final step before production. Prototypes reveal problems that can only be discovered in real-world applications, allowing you to hone your design as well as determine the efficiency and functionality of the part. CNC machining provides you with a fully functional prototype made from the desired material that meets all tolerance and cosmetic specifications.
Produce the design – Once your design has been vetted and refined through prototyping, it is time to produce your part. Whether you're starting with a small production run or a large run, Reading Plastic will deliver your parts on-time. All of our work is ISO 9001:2008 compliant, and every part goes through our rigorous quality assurance testing process before shipping, which includes 3D measurement, digital microscopic review, optical comparator review and more.
Choose Reading Plastic for Exceptional Plastic Parts
At Reading Plastic, we know how to get plastic parts made. We've helped clients in nearly every industry get the precision plastic parts they need, on-time and on-spec. If you have a project in mind, call us today at 610-926-3245 or email site2@readingplastic.com. We look forward to making your designs a reality!