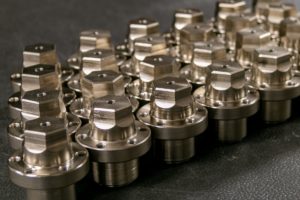 You may be surprised to learn that in addition to specialty plastic machining and fabrication, we offer custom metal parts fabrication. If you need copper, brass, aluminum or stainless steel parts, you can rely on us to deliver them with the same precision and quality our plastic parts are known for. And since we are located within a day's drive of a third of the U.S., you can be certain your parts will arrive quickly.
What is Custom Metal Parts Fabrication?
Metal fabrication refers to any process that cuts, shapes, or molds raw or semi-finished metal into a final product. There are several metal fabrication processes that can be used, each of which depends on the starting material and the end product. At Reading Plastic, we offer precision die cutting, stamping and CNC machining.
Die cutting uses a machined die and a press to cut out shapes from metal. It is useful for creating very thin parts.
Stamping is a similar process to die cutting, but instead of cutting through the metal, stamping creates an indentation. It is typically used to form letters, shapes or images directly into the metal.
CNC machining uses computer-driven machines to cut and shape metal through milling, sawing, turning and routing. CNC machining is used to create extremely precise parts.
What to Look For in a Custom Metal Parts Fabricator
Experience – Reading Plastic has been creating precise custom parts for over three decades. Our expert staff can deliver the parts you need on time and on spec. We even offer design services to evaluate the most cost-effective way to produce your part.
Industry knowledge – We have produced parts for nearly every industry so we are well versed in the regulations these industries require. We have built parts in compliance with FDA, Aviation, and Department of Defense standards and we are ISO 9001:2015 compliant. Our industry insight also means we are familiar with the various challenges inherent in each industry (such as saltwater corrosion for marine parts or chemical corrosion from aviation fluids in aerospace parts) and can recommend how to improve your part life.
Equipment – Our ever-expanding fleet of state-of-the-art CNC machines are capable of producing parts with extremely tight tolerances, complex geometries and smooth surface finishes. Their speed and accuracy mean we can produce thousands of identical parts with a fast turnaround. It is also easy to make changes to your design without significant production delays.
Production capabilities – We can handle any volume production run, from small and large runs to prototyping. We even offer rush production and delivery for critical situations.
When you need custom metal parts fabrication, trust the team at Reading Plastic Machining & Fabrication. With over three decades of experience, state-of-the-art equipment, and a rigorous quality assurance testing process, you can trust us to deliver dependable, precise, high-performance parts. For more information, contact us today at 610-926-3245 or email site2@readingplastic.com.