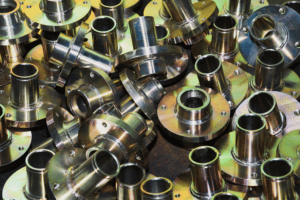 At Reading Plastic & Metal, our dependable and scalable machining services deliver high-quality metal parts to fit your needs. Whether it's a prototype, short runs of complex parts, or high-volume production, we are your go-to precision metal parts manufacturer. We produce sheet metal and structural metal parts that provide reliable, cost-effective solutions for your project. Our state-of-the-art CNC machines and expert programmers create precision metal parts with the highest degree of accuracy and repeatability, so you can be certain that every part meets your exact specifications.
As a top metal machining company, we specialize in several metal fabrication processes to manipulate raw metals into the right product for your application. We cut, shape, and mold aluminum, brass, copper, titanium, and stainless steel using advanced technology and know-how from our team of industry experts. Our methods include CNC machining, stamping and die-cutting. We are also a reliable OEM replacement part provider.
Metal CNC Machining Services
Within our CNC machining services, we offer:
Reading Plastic & Metal is the Top Metal Machining Company
Reading Plastic & Metal has vast experience fulfilling orders of exceptional quality products to our customers' exact specifications. We offer rapid production of identical, intricate high-performance parts that pass stringent ISO 9001:2015 quality assurance inspection.
Our decades of successfully serving the manufacturing market have allowed us to build lasting relationships with customers in a wide variety of industries. Don't hesitate to contact us today at (610) 926-3245 or site2@readingplastic.com, so we can get started on your project.