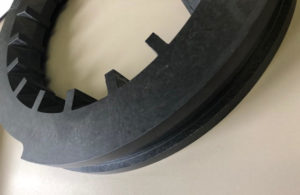 PEEK is one of the most expensive plastics on the market, but its outstanding properties make it the go-to choice when you need an incredibly strong plastic that will remain dimensionally stable under load and in the harshest environments. PEEK can also be reinforced with other materials to enhance its abilities. In particular, carbon PEEK material properties are useful for high load applications, such as aircraft mechanical components and oil and gas processing equipment.
What is Carbon PEEK Material?
Carbon PEEK has been reinforced with carbon fiber, giving it the highest strength and stiffness of all the PEEK grades and improving its load-carrying capacity. It is also 7% lighter than glass reinforced grades, even though it contains more reinforcement per unit volume. The carbon fiber gives it a significantly higher thermal conductivity compared to unreinforced PEEK, thus reducing its thermal expansion rate. With the highest chemical resistance of any semi-crystalline plastic and excellent retention of mechanical properties up to 300ºC (572ºF), carbon PEEK can replace metal in some of the harshest environments.
What are the Key Carbon PEEK Material Properties?
High mechanical strength in excess of 250ºC (482ºF)
Very good wear and abrasion resistance
Excellent resistance to hydrolysis in boiling water and superheated steam
High purity
Exceptional chemical resistance to organics, acids, and bases
Superior dielectric with low loss at high temperatures and frequencies
Low CLTE and high limiting PV properties
Among the strongest of all thermoplastics at room temperature
How is Carbon PEEK Used?
Carbon PEEK is used in a wide range of industries and in a variety of applications. Its substantial durability makes it a common choice for punishing environments. Typical applications include:
Bearing retainers
Gears
Bushings
Oil and gas processing equipment
Seals
Thrust washers
Aircraft hardware and fasteners
Aircraft mechanical components
Precise PEEK Parts from Reading Plastic
Carbon PEEK material properties – particularly its high temperature resistance – can make it difficult to process. However, in its solid state, PEEK is readily machinable by CNC milling machines. Machining PEEK is the preferred method in most high-precision applications where components need to offer excellent mechanical and wear properties.
With decades of experience, the team at Reading Plastic can produce parts that hold close tolerances and deliver your parts fast and ready to go. If you want to learn more about carbon PEEK material properties and how they can benefit your next project, call us today at (610) 926-3245.