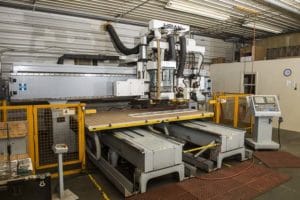 The most advanced plastics available today. The closest tolerances in the industry. Decades of experience in CNC service.
Companies, organizations and the military rely on Reading Plastic Machining & Fabrication for all of this and more. With the equipment and know-how to produce the most precise, dependable plastic parts, we can meet your CNC machining needs on time and on budget.
CNC Service: Milling, Routine, Turning, Sawing
Our immaculately maintained machines and ultra-precise cutting tools give us an edge. We provide these superior CNC services:
Quality Control Equipment
All parts must pass a comprehensive, ISO 9001:2008 certified quality inspection before shipping. To keep quality sky-high, we use:
Brown & Sharp Optical Comparator
Helmel Checkmaster 216-142 Manual CMM (Coordinate Measuring Machine) for 3D Measurement
Taylor Hobson Profilometer
Starrett and Mitutoyo Calipers
Omano Digital Microscope
Vermont Gage Pin Gage
Digimar CX1 Digital Height Gauge
Contact Us Today For a Free Quote
Ready to start your project? Give us a call at (610) 926-3245 or fill out our online form to receive a free quote. No matter the scope or complexity of the job, we're confident we can meet your needs. Get in contact with us today!