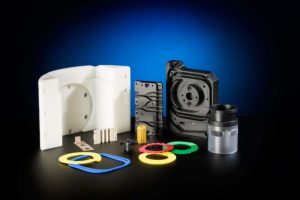 Precision plastic components are in high demand these days as more and more industries design parts with advanced engineering plastics in mind. For almost four decades, Reading Plastic Machining & Fabrication has been providing precision machined components for clients across every industry. We are a well-known industry leader for tight tolerance plastic parts, and our services are available coast to coast. As a high-end machine shop, Reading Plastic can meet all your milling, turning, routing, die stamping and custom fabrication needs.
Why Clients Trust Us for Precision Machined Components
State-of-the-art equipment – At Reading Plastic you will find immaculately maintained machines, ultra-precise cutting tools, and the latest technologies. We are always increasing our capabilities to better serve our clients, such as adding a new Mycenter-2XD "Sparkchanger" Vertical Machining Center to our fleet. This machine is a breakthrough solution for all of your small to medium high-volume production part processes.
Commitment to quality – All precision machined components must pass a comprehensive, ISO 9001:2008 certified quality inspection before shipping. To keep quality sky-high we have thorough quality control equipment, including Brown & Sharp Optical Comparator, Omano Digital Microscope, Digimar CX1 Digital Height Gauge, Starrett and Mitutoyo Calipers, and more.
Material selection – Many factors have to be considered when choosing the right plastic for a project. At Reading Plastic, we not only offer an extensive material selection, we have hands-on knowledge about how the materials perform in all sorts of settings, and we pass that knowledge on to our clients. No matter how challenging the application, we can help you choose the best plastic for your project.
Location – Located in Reading, PA, Reading Plastic is within a day's drive of a third of the U.S. population, which means we can deliver your parts faster and cheaper than a company halfway around the world. You can also rely on knowledgeable and responsive customer service without juggling time zones.
Additional services – In addition to superior CNC machining services, we also offer custom fabrication services to turn your machined plastic parts into assembled, finished products. From snapping machined parts together to complex bending or threading, our fabrication team gets you finished plastic parts ready for immediate use. We also offer precision die-cutting and stamping of a vast range of thin-gauged insulation materials, plastics and other non-metallic materials for specialty applications.
For Precision Machined Components, Call Reading Plastic
At Reading Plastic, we are proud of our long history of quality, precision and craftsmanship, and customer satisfaction. If you have a project that requires precise, dependable plastic parts, call us today at (610) 926-3245 or you can request a quote. We look forward to working with you!