Reading Plastic Machining & Fabrication has decades of experience machining precision plastic and metal parts. Our wealth of expertise distinguishes us a superior parts supplier for aerospace solenoid valve manufacturers. We have years of experience providing ultralight, ultra-strong plastics that offer supreme resistance to heat, wear, and chemicals for the aerospace industry, including solenoid valves.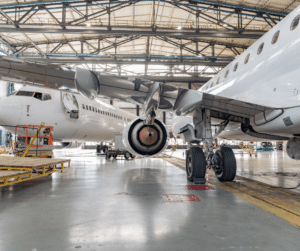 What is a Solenoid Valve?
A solenoid valve regulates the opening or closing of an orifice that allows or prevents flow, controlling the liquid or gas that is passing through. Experienced in working with the most cutting-edge plastics available today, our valve parts enable safe and fast switching in the most rigorous environments. We are accustomed to meeting rigorous compliance standards and holding close tolerances that other companies have failed to meet.
Solenoid Valves in Aerospace
The strength-to-weight ratio of plastic has increased the popularity of their use in aerospace and aviation.  Since aerospace plastics provide the same strength as metal at a fraction of the weight, aerospace engineers could convert large portions of aerostructure from metal to plastic to significantly reduce an aircraft's weight without compromising strength.
Solenoid valves in the aerospace industry often control air and fluid flow by monitoring the speed and level of substance that passes through. Aircraft rely on the controlled flow of liquids and gasses for proper operation. These include hydraulic fluids, lubricating oils, jet fuel, cabin air, and engine bleed air. High performance plastics are often used for valve seats and seals because they have outstanding chemical resistance and wear properties.
Reading Plastic & Metal is the Best of Aerospace Solenoid Valve Manufacturers
Reading Plastic meets high-volume demands for parts needed in solenoid cartridge valves, solenoid spool valves, solenoid safety valves, pneumatic solenoid valves, solenoid fluid control valves as well as accessories and replacement parts. We set the standard for reliability and can create custom solutions based upon your unique needs.
If you're in need of durable, precise aerospace solenoidvalves that can hold tight tolerances, request a quote today by calling us at 610-926-3245 or emailing site2@readingplastic.com.