As just one of the many hats worn, Reading Plastic & Metal is a top American semiconductor manufacturer. Because this is an integral part of creating electronic devices, choosing the right company to supply your semiconductors is a must. Whether it's diodes, transistors, or integrated circuits (ICs), semiconductors are a popular choice. Often made of pure elements, such as silicon, germanium, or compounds such as gallium arsenide or cadmium selenide, a few advantages of semiconductors are their compactness, reliability, power efficiency, and low cost.
Why Use High-Performance Plastics in Semiconductor Manufacturing?
There are a variety of plastics that can be used for semiconductor manufacturing, but high-performance plastics are the best choice. Because projects within the semiconductor industry are incredibly complex, time-consuming, and expensive, precautions must be taken at all steps, starting with cleanliness within the lab. Many chemicals and gasses used in these processes are extremely corrosive. While metals will corrode in these conditions, high-performance plastics can withstand them.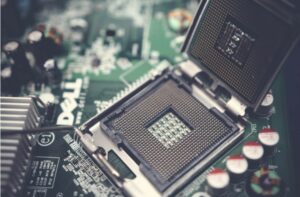 A few reasons plastics are used in the semiconductor industry include:
chemical resistance to avoid corrosion
low moisture absorption
can withstand high temperatures
electrical insulating properties
creep resistance and dimensional stability
great machinability
flame retardant
low thermal conductivity
We're a Leading American Semiconductor Manufacturer
Reading Plastic & Metal creates specialty plastics for the semiconductor industry. With a wide choice of materials, our advanced plastics are sure to meet the needs of the project at hand. Our plastics have low porosity and dielectrical advantages to accelerate your semiconductor engineering. We machine high-performance dielectric components, seals, liners, trays, and more.
Reading Plastic & Metal has the ability and the drive to machine the specialty components that will carry you to the next breakthrough. If you're looking for precise, durable plastic parts for semiconductor research, development, and manufacturing, contact Reading Plastic & Metal today at (610) 926-3245 or site2@readingplastic.com to discuss all your project needs.