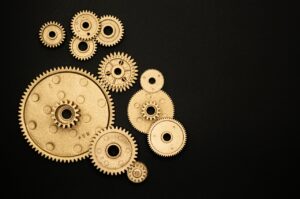 Bronze is a metal alloy comprised of a copper base and other alloys, usually tin. Bronze is a popular material for industrial applications because it is highly resistant to water corrosion and is an excellent conductor of electricity and heat. It is considered a low friction and non-magnetic alloy with a wide range of properties, including high ductility, hardness, workability, thermal conductivity and high strength. Bronze machining is commonly used to produce bearings, bushings, electrical conductors and marine equipment.
Types of Bronze
While tin is the most common alloy used in bronze, other metals and metalloids such as aluminum, silicon and manganese may also be used, resulting in bronzes with slightly different mechanical and physical properties. Common types of bronze include:
Aluminum bronze – A combination of 6-12% aluminum and up to 6% iron and 6% nickel gives this alloy superior strength and corrosion resistant qualities. It is typically used for pumps that carry corrosive fluids and in the oil, petrochemical and water supply industries. With superior resistance to saltwater corrosion, it is also a popular choice for marine applications.
Bearing bronze – A lead content of 6-8% gives this alloy low-friction properties, making it useful for high wear environments (particularly) areas that are difficult to access or maintain). As the name implies, this bronze is typically used for bearings and bushings.
Copper nickel – Also called "cupronickel," this bronze contains nickel in a broad range: anywhere from 2% to 30%. Strong and corrosion resistant like other bronze alloys, it also has high thermal stability and a very high tolerance to corrosion cracking under stress and oxidation in a steam or moist air environment. Higher end nickel content provides higher resistance to saltwater and marine biological fouling. This alloy is useful for electrical components, marine equipment, ship hulls, pumps and valves.
Manganese bronze – This alloy contains copper, zinc, aluminum, iron and up to 3% manganese. Strong and highly resistant to saltwater corrosion, it is also shock-resistant and deforms rather than breaks. It is typically used in boat propellers, valve and pump parts, gears, nuts and bolts.
Phosphor bronze – Also referred to as "tin bronze," this alloy generally contains between .5% to 1% tin and between .01% to .35% phosphorus. This combination delivers high tensile strength, durability, high fatigue and wear resistance, fine grain and a low coefficient of friction. It is most commonly used for anti-corrosive equipment, electrical components, washers, springs and bellows.
We Offer Bronze Machining for Every Application
Whether you need durable bearings or corrosion resistant marine hardware, Reading Plastic's bronze machining services are ready to deliver. Our precision CNC machines and expert staff can handle all your machining needs, from prototyping to large runs. We have machined hardworking parts for a variety of demanding environments and we maintain strict ISO 9001:2015 compliance. If you need quality bronze machining, call us today at (610) 926-3245.