If you're looking for high degrees of accuracy, short lead and production times, complex precision, and undeniable repeatability practiced by experts with decades of experience, Reading Plastic & Metal's CNC Manufacturing services are for you! Offering both plastic and metal CNC machining, you'll find the equipment and know-how to produce the most precise, dependable plastic parts with us. Even more specialized, Reading Plastic & Metal's CNC milling/turning service is top-notch and allows for precision parts delivered to perfection.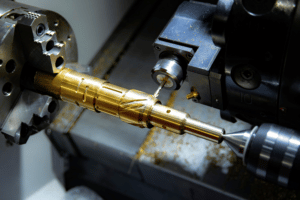 Benefits & Applications of CNC Milling
We produce your parts with precision, accuracy and repeatability. Our team uses computer-driven CNC milling machines to create advanced plastic parts with tolerances of +/- .001 and the surface finishes as smooth as 15Ra.
Some benefits of CNC milling include:
Versatile cutting tool: CNC milling machines use a cutting tool that moves on multiple axes– vertically, horizontally and diagonally– to create unique shapes, slots, holes and details in a part.
Superior accuracy: Because CNC machines are computer controlled, they provide superior accuracy and reproducibility. Each part will meet your specifications every time, no matter the size of the run or how close the tolerances.
Secondary post-milling operations: Secondary post-milling operations save you time and lower your production costs. We can add threads, finish through-bores, mount surfaces and brand parts with hot stamping or silk screening.
CNC milling services are distinct in the geometries and surface textures they can render, allowing them to deliver some of today's most intricate parts. It allows for the creation of a wide variety of complex parts, such as ball joints, brackets, spindles and much more in various industries, including:
Aircrafts and aerospace
Electronics
Food and beverage processing
Medical
Sanitation and water treatment
Technology and security
Telecommunications
Transportation and automotive
Benefits & Materials of CNC Turning
We provide world-class CNC turning for advanced engineering plastics. We specialize in multi-axis lathe work that holds tight tolerance standards, up to .001″.
Some benefits of CNC turning include:
Extreme precision: CNC turning services deliver pinpoint accuracy no matter the size of the production run, so you can be certain every component is identical and on-spec.
Quick & efficient: CNC turning machines also produce parts quickly and efficiently, helping you meet tight deadlines while staying on budget.
State-of-the-art equipment: At Reading Plastic, we are constantly upgrading our fleet of CNC machines to deliver superior parts to our clients. Our dual spindle turning centers provide increased productivity as well as improved part quality and consistency by decreasing the number of times a part is handled. For supercharged efficiency, our Miyano BNA-42S has a unique control system that decreases non-cutting time by 27%, allowing us to produce parts faster than ever before.
We provide precision CNC turned parts from a wide variety of advanced engineering and specialty plastics, such as:
PEEK
PTFE
Vespel
Stainless steel
CNC Milling/Turning Service with Reading Plastic & Metal
Looking for an experienced, dependable CNC machining company for your milling or turning projects? Contact Reading Plastic & Metal today at (610) 926-3245 or site2@readingplastic.com to discuss all your project needs.