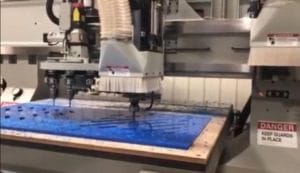 CNC routing is a great way to produce high volumes of precision parts with speed, accuracy, and repeatability. At Reading Plastic, our skilled machinists and fleet of immaculately maintained machines have made us a leading CNC router cutting service provider for decades. We specialize in:
Plunge cuts
3D contours
Circular patterns
Radius edges
Beveling
And more
What Sets Our CNC Router Cutting Service Apart
Reading Plastic's CNC router cutting service is known for fast cycle times and consistently accurate results. We deliver parts that meet your exact specifications, no matter how complex the design or advanced the properties of the material. Our vacuum-secured routing machines use standard milling bits from .010" to 4.0" to produce your job as efficiently as possible. We are also experts at routing with specialty bits to handle even the toughest advanced engineering plastics and metals, including:
Acetal
Delrin®
HDPE
Medical Grade Plastic
MIL-SPEC Material
PEEK
Teflon®
Ultem®
Vespel®
Bronze
Brass
Stainless Steel
Titanium
Our state-of-the-art machinery allows us to deliver superior results for our clients. We can produce oversized specialty parts up to 127" x 80" x 9" with our Heian Dual Table Router. Our EXXACT Plus 116 TC2 can handle heavy duty machining of various materials and thicknesses, and cuts on three axes.
CNC router cutting services also offer a high degree of flexibility. Need to change your design to meet specific customer needs or improve the function of a part? CNC machines can be quickly and easily reprogrammed with the new design, helping you get the new version of your part into your clients' hands faster.
Trust Your Parts to Reading Plastic
Companies have been relying on Reading Plastic's skilled CNC router cutting service for decades. We've produced a wide range of can't-fail plastic parts, from control panels and display housings to point-of-sale technology and high-wear architectural features. All of our parts must pass a comprehensive ISO 9001:2015 compliant quality inspection before shipping, so you can have confidence in their quality and performance.
And our expert services don't stop at routing. As a high-end machine shop, we offer a full range of precision CNC machining services, including sawing, milling and turning. We can even turn your machined plastic parts into assembled, finished products with our custom fabrication services. We are your one-stop-shop for custom plastic parts.
Have a CNC routing project in mind? Call us today at (610) 926-3245 or email site2@readingplastic.com. We look forward to working with you.