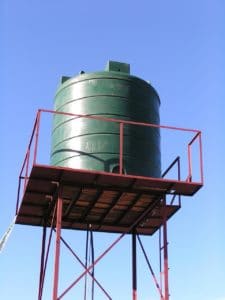 When you need custom plastic tank fabrication, call the experts at Reading Plastic. As an industry leader in specialty plastic CNC machining and fabrication for over thirty years, Reading Plastic can produce the custom plastic tanks you need with speed and precision. Whether your application demands tight tolerances or advanced plastics, we deliver high-quality parts that meet your specifications.
What Sets Reading Plastic Apart?
Highest standards for accuracy and quality – We've been building to strict standards for over 30 years (including FDA and Department of Defense standards), and all our parts must pass a comprehensive, ISO 9001:2008 compliant quality inspection before shipping. Our CNC machining services deliver a high level of accuracy and repeatability, allowing us to specialize in tight tolerances. Our CNC services include:
CNC Sawing – No matter how technical the plastic, we know how to cut it. Our fleet of CNC saws combine ultra-fast cutting speed with pinpoint accuracy, helping you meet tight deadlines while reducing waste and keeping your costs low.
CNC Turning – Our world-class CNC turning specializes in multi-axis lathe work that holds tight tolerance standards, up to .001". Precision threading is available in ANSI, ASME, metric and variable pitch threads, and we use the latest CAD/CAM techniques and software to bring your designs to life. We excel at deburring, deep hole drilling, cross holes, threading, and more.
CNC Milling – Our CNC milling machines can create advanced plastic parts with tolerances of +/- .001 and surface finishes as smooth as 15Ra. We also offer secondary post-milling operations to help save you time and money, such as adding threads, finishing through-bores, and much more. We specialize in contours, small channels, keyways, spirals, micro-holes, and more.
CNC Routing – We can tackle any routing job, including oversized specialty parts up to 127" x 80" x 9", and are experts in routing with specialty bits for the most advanced engineering plastics. Our clients trust us to deliver resilient plastic parts for a wide range of applications and industries.
Expert custom fabrication – When you choose Reading Plastic for custom plastic tank fabrication, you can be sure you will get an expertly finished product ready for immediate use. We specialize in bending, forming, bonding, welding, threaded inserts, and more – everything needed to deliver high-quality custom plastic tanks.
Specialty plastic knowledge and experience – With Reading Plastic, you not only get superior custom plastic tank fabrication, you get to draw on our decades of experience working with specialty plastics. Not sure which plastic is best for your project? Our experts are glad to answer any questions you may have. We've learned hands-on how the materials perform in a variety of settings, and we pass that knowledge on to you. We can fabricate custom plastic tanks from any specialty plastic you need, whether you need a tank with excellent chemical resistance, superior stiffness, or high temperature resistance.
Reading Plastic: Your Custom Plastic Tank Fabrication Experts
If you need a custom plastic tank, you can request a quote or call us at (610) 926-3245. We look forward to discussing your project with you!