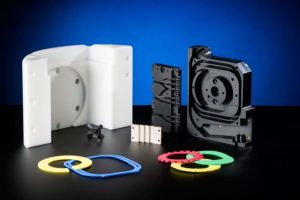 When it comes to getting high-quality plastic parts made, you want to choose a manufacturer with a proven track record of precision and reliability. For decades, companies, organizations and the military have been relying on Reading Plastic for high-quality plastic parts. We are well-known for producing parts with the closest tolerances in the industry from the most advanced plastics available today. Our state-of-the-art CNC machines and expert staff allow us to produce the most precise, dependable plastic parts on time and on budget. All of our parts must undergo a comprehensive ISO 9001:2008 compliant quality inspection before shipping, ensuring the parts we produce will meet all your standards and specifications.
What is Our Process for High-Quality Plastic Parts?
At Reading Plastic, we know that you and your customers are looking for more than just parts – you need solutions to problems. That is why we start with an in-depth consultation to evaluate the demands of your project, from extreme heat to chemical exposure to strength considerations. With decades of experience working with specialty plastics and hands-on knowledge of how they perform in a variety of settings, we can help you select the right material for your project. We also offer design services to enhance your original design and help you better achieve project goals – whether it's longer part life or faster delivery – and we never sacrifice quality.
We offer a variety of services so that we can manufacture your precise, high-quality plastic parts in the most efficient manner. With our expert CNC machining services, we can quickly produce complex parts with tight tolerances (+/- .001″) and superior surface finishes (as smooth as 15Ra). Our state-of-the-art CNC machines can also handle the most advanced plastics, including PEEK, Vespel®, and Ultem®. This process allows the greatest design flexibility as the machines can quickly be reprogrammed to produce the latest version of your part, minimizing downtime and outdated parts.
We also offer precision die cutting and stamping of thin-gauged insulation materials, plastics and other non-metallic materials for specialty applications. This process offers significant cost savings when high production volumes are at play, and our precise CNC-cut dies deliver tight tolerances and exact dimensions for reliable repeatability.
We even offer custom fabrication services to turn your machined plastic parts into assembled, finished products. From something as basic as snapping machined parts together to complex bending, our fabrication team provides you with finished plastic parts ready for you or your customer to use right away.
Need OEM parts? No worries – we can easily replicate the OEM parts you need, even if you don't know the original manufacturer. Send us any OEM part and we can reverse engineer it, as well as provide a CAD drawing of your part. And as an industry leader in tight tolerance machining, you can be certain your replicate plastic parts will fit right the first time.
Trust Reading Plastic for Your High-Quality Plastic Parts
From design consultations to post-sale support, we are always here to help our clients with expert services and innovative solutions. We even offer custom specialty packaging to ensure your parts arrive safe and sound. So if you have a project that requires dependable, high-quality plastic parts, call us today at (610) 926-3245. We look forward to working with you!