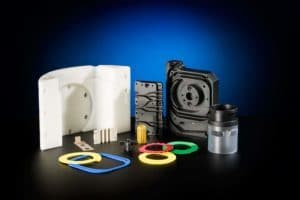 The demand for specialty plastic parts has been growing exponentially in the last decade due to their ability to increase efficiency and productivity, reduce weight and downtime, and perform in the harshest and most demanding environments. For almost four decades, Reading Plastic Machining & Fabrication has been trusted by clients in every industry for our precision plastic machining process. We are a well-known industry leader for tight tolerance plastic parts, and can machine even the most advanced plastics.
Our Plastic Parts Improve Your Performance
At Reading Plastic, we work closely with our customers to ensure our parts meet all your needs and specifications. We know that you and your customers are looking for more than just parts – you need solutions to problems. That is why our plastic machining process starts with an in-depth consultation. We evaluate the demands of your project – extreme heat, chemical resistance, high strength, anti-static, etc. – and help you select the right material based on our decades of experience working with specialty plastics.
Many customers request our design services to enhance their original designs and processes. We almost always find ways to improve production in keeping with your goals, whether it's lower part cost, longer part life, tighter tolerances, faster delivery, or less waste, and we never sacrifice quality. We also provide you with engineering drawings to ensure accuracy and await your approval before we get to work.
At Reading Plastic, we believe in doing things right the first time. Our elite machinists take pride in their work and our systematic approach to production and quality management is ISO 9001:2008 compliant. Every part goes through our rigorous quality assurance testing process before shipping, which includes 3D measurement, digital microscopic review, optical comparator review and more. We even offer custom specialty packaging to ensure your parts arrive safe and sound. We also know the downtime is costly, which is why we fine-tune our production schedules daily to make sure we meet your deadline and offer rush production and delivery for critical situations.
Our streamlined plastic machining process even includes custom fabrication services, should you need them. From something as basic as snapping machined parts together to complex bending, our fabrication team provides you with finished plastic parts ready for you or your customer to use right away.
And our job doesn't end once the parts are shipped. With our post-sale support we are always here for you, ready to help. We are proud of our long history of quality, precision and craftsmanship, and customer satisfaction. If you have a project that requires precise, dependable plastic parts, call us today at (610) 926-3245 or you can request a quote. We look forward to working with you!