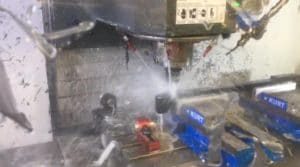 PPSU plastic is an amorphous thermoplastic known for its superior impact strength (withstanding over 100 joules of force without shattering) and exceptional hydraulic stability. It is commonly used in the medical and aerospace industries for everything from surgical instruments and sterilization trays to aircraft bezels and interiors. When machined correctly, PPSU plastic parts can withstand repeated exposure to moisture and extreme temperatures without losing their mechanical properties.
Properties of PPSU Plastic
PPSU (polyphenylsulfone) is a lightweight plastic with high operating temperature (350°F) and dimensional stability, good electrical insulating properties and favorable dielectric characteristics. This high performance plastic maintains its toughness across a wide temperature range and has good chemical compatibility as well as very good resistance to high energy radiation (gamma and X-rays). There are a variety of PPSU grades available, including Radel® 5500 which is a biocompatible, medical-grade resin that is FDA and NSF approved for food and beverage contact.
PPSU plastic is inherently flame retardant and meets stringent aircraft flammability requirements, making it an ideal choice for aircraft interiors. It can also withstand superheated steam and is resistant to detergents and disinfectants, meaning medical components made from PPSU plastic have excellent resistance to plasma, gamma, EtO and chemical sterilizations and can endure unlimited steam autoclaving.
The Challenges of Machining PPSU Plastic
Amorphous thermoplastics, like PPSU, are especially prone to stress-cracking. To reduce the likelihood of cracking and premature failure, annealing is a critical step in machining PPSU plastic. Annealing is a heat treatment that alters the properties of a polymer to increase its ductility and reduce its hardness. The plastic is heated above its recrystallization temperature for a specific period of time and then allowed to cool back down. This process changes the structure of the polymer to be finer and more uniform and relieves internal stresses in the material. As a result, the polymer will have better mechanical and thermal stability over time and better adhere to tolerances. Properly annealing PPSU parts ensures peak performance and extends their life.
When machining PPSU plastic parts, it is also critical to use the correct coolant. Petroleum-based coolants attack amorphous thermoplastics and cause cracks to develop over time. Conversely, water-soluble coolants ensure ideal surface finishes and close tolerances.
Reading Plastic: Superior, Dependable Parts
At Reading Plastic, we have over four decades of experience delivering precision plastic parts to clients in nearly every industry. We machine parts to strict standards – including FDA, Department of Defense, and Aviation – and our systemic approach to production and quality management is ISO 9001:2015 certified. If you need PPSU plastic parts that will deliver high performance and long part life, contact us today at 610-926-3245 or site2@readingplastic.com.