Reading Plastic & Metal has been a leader in delivering precision aluminum parts for over four decades. Our aluminum CNC machining service allows us to manufacture intricate and durable parts to satisfy your specifications, budget, and turnaround time. Whether it's a single prototype or large run of specialty parts, Reading Plastic & Metal can accommodate your project and deliver exactly what you need!
Benefits of Precision Aluminum Parts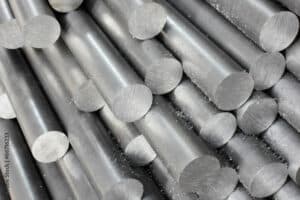 Aluminum is one of the most popular materials for industrial parts in a variety of applications, and for good reason! Some of the superior properties of aluminum include:
Excellent malleability: easily able to be formed by hammering or rolling
Highly ductile: easily able to be formed or pressed into another shape without fracturing
Strength-to-weight ratio: low in density but high in strength, making it the perfect solution for applications that require high strength, lightweight materials
Good thermal and electrical conductivity: can withstand high temperatures and electrical activity
Excellent corrosion and chemical resistance: can withstand potentially hazardous chemicals
Non-magnetic and non-flammable: properties that make for perfect materials in a variety of industries
Precision Aluminum Parts in Action
Automotive – Aluminum parts help make engines more fuel-efficient and make vehicles lighter to reduce fuel consumption and emissions. They also increase safety by absorbing a high proportion of the shock created by motor vehicle accidents, thus minimizing injury to the passengers.
Aerospace – Custom machined aluminum parts are able to handle the extreme pressures and stresses that aircraft experience at high altitudes without losing their structural integrity. By choosing aluminum parts rather than steel, engineers can drastically reduce the weight of an aircraft.
Food packaging and processing – Aluminum parts are commonly used in food packaging assembly lines, particularly when they have been anodized (treated to form a layer of aluminum oxide on the surface). Anodized aluminum has much higher corrosion and abrasion resistance and is also stronger than regular aluminum.
Telecommunications – Aluminum is used to make a wide range of critical telecommunication parts, including covers, cavities, and heat sink housings. Custom machined aluminum parts help protect sensitive equipment and play a critical role in transmission and distribution.
Precision Aluminum Parts at Reading Plastic & Metal
Our top-rated metal CNC processes include milling, turning and grinding. We work across industries to provide a superior product and service. Our in-house experts, cutting-edge equipment and impeccable facilities are primed to deliver the most precise and durable aluminum parts with tight tolerances and high repeatability. Contact us today at (610) 926-3245 or site2@readingplastic.com to discuss your next project.