World-class. Tight tolerance. Specialized engineering. Whenever you're in need of precision turned parts, Reading Plastic & Metal is the obvious choice. How exactly does RPMF rank above other precision turned parts manufacturers? High speed specialized production, state-of-the-art CNC turning machines, and our guarantee to produce unmatched precision sets us apart from the rest. We specialize in multi-axis lathe work that holds tight tolerance standards (up to .001), create your sprockets, gears and augurs from any specialty plastic you request, offer precision threading, and use the latest CAD/CAM techniques and software.
Why Choose CNC Turning Services?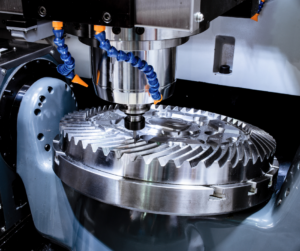 If your project required extreme precision, CNC turning services may be right for you. Our precision turning services deliver pinpoint accuracy no matter the size of the production run, so you can be certain every component is identical and on-spec. Also, the machines used in this process produce parts quickly, meaning you'll get your product both accurate and in a timely manner. If you're on a tight budget, CNC turning machines short turnaround time provides an affordable option without sacrificing the quality.
Reading Plastic & Metal: The Best of P
recision Turned Parts Manufacturers
We provide precision CNC turned parts from a wide variety of advanced engineering and specialty plastics, such as PEEK, PTFE, and Vespel®, as well as metals such as stainless steel. Our decades of experience, passion, and dedication allow for RPMF to perfect the process and offer specialized services, including:
CNC Controlled

Facing
Parting
Threading
Boring
Deburring

Deep hole drilling and cross holes
Sprocket teeth
Interrupted Cuts Hexes
Contours
Optical Quality Turning
As technology constantly evolves, Reading Plastic & Metal is committed to keeping our machinery up-to-date to provide the most precise product possible. We offer both Mori Seiki dual spindle turning centers as well as our Miyano BNA-42S for more intricate jobs.
Dual spindle turning centers:
provide increased productivity as well as improved part quality and consistency by decreasing the number of times a part is handled
parts are automatically transferred within the machine for secondary operations
reduces the number of machines needed to complete a part, as well as the amount of time it takes to machine a part
Our Miyano BNA-42S:
has supercharged efficiency
decreases non-cutting time by 27%, allowing us to produce parts faster than ever before
holds tighter tolerances than previous models
No project is impossible with Reading Plastic & Metal. Among precision turned parts manufacturers, RPMF is the clear choice for world-class CNC turning for advanced engineering plastics. Contact us today at (610) 926-3245 or site2@readingplastic.com to discuss your next project.