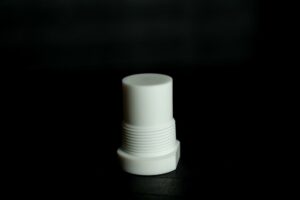 Teflon® (also known as PTFE) is a high-performance plastic most commonly known for its non-stick properties. Due to its impressive versatility and ability to withstand various conditions and applications, Teflon is a common choice throughout nearly every industry. As an experienced Teflon® manufacturer, Reading Plastic & Metal understands this material's unique properties and utilizes it to the fullest to provide the best Teflon CNC machining services you can find.
Why Choose Teflon for Your Next Project?
As mentioned above, Teflon is a popular choice for its superior properties. Did you know that Teflon has the lowest coefficient of friction against any solid known to man? This makes it both non-stick and self-lubricating which allows it to withstand dry running and provide longer part and service life.
The chemical resistance of Teflon is also exceptional. It is highly insoluble in most solvents or chemicals (with the exception of fluorine), has excellent electrical resistance, high dielectric and flexural strength, and low flammability. Due to its natural UV radiation resistance, Teflon is a great choice for outdoor projects.
Teflon's thermal stability is another reason for its popularity. As a heat resistant plastic, Teflon can:
Exceed 300°F in continuous operating temperature
Offer cryogenic stability
Maintain its properties over a broad temperature range (from -400°F up to 500°F)
Teflon is FDA-approved as safe for use in food and drug preparation and nearly completely resistant to water and other liquids. As a material with some of the lowest outgassing properties, Teflon reigns supreme in aerospace and energy industries to prevent irritation.
Reading Plastic & Metal Provides Top-Notch Teflon CNC Machining
Teflon is a great option for many plastic CNC machining projects. At Reading Plastic & Metal, we offer state-of-the-art CNC machining services backed by decades of experience. Some benefits of plastic CNC machining include:
High degrees of accuracy and repeatability
Short lead and production times
Produce complex parts with extremely tight tolerances (+/-.001) and superior surface finishes
Cost-effective for both small and large production runs
Allows for quick and easy changes to part design
Reading Plastic & Metal offers CNC milling, routing, turning, and sawing services. Each of these specialized services can utilize Teflon as a high-performance plastic. If you're in search for Teflon CNC machining, contact Reading Plastic today at (610) 926-3245 or site2@readingplastic.com. We look forward to working with you!