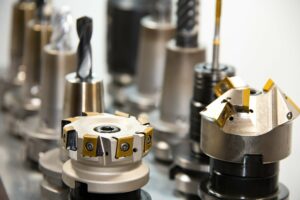 Titanium is an exceptionally strong and light material, with the highest strength-to-weight ratio of any metal. It is nontoxic, has a relatively low modulus of elasticity, and has excellent resistance to corrosion (particularly seawater). Titanium also has excellent fatigue performance, does not rust, and can withstand extreme temperatures without deforming or shattering.
This combination of properties means titanium parts last longer and perform better than other metals and materials, which is why they can often be found in demanding applications such as aircraft engines and submarine hulls. But these properties also make titanium difficult to machine, which is why choosing the right machine shop for titanium milling is critical to the quality and cost of your titanium parts. At Reading Plastic, we understand the challenges of titanium milling and we have an optimized, streamlined process to ensure we employ the correct process every time.
Top Challenges of Titanium Milling and How We Overcome Them
Heat build-up – Titanium's low thermal conductivity means that it does not shed heat easily. During machining, this attribute is magnified by the fact that, unlike steel, titanium does not form chips that help disperse heat from the surface. As a result, machining with too high of a cutting speed can cause titanium to overheat – even potentially combust – and damage equipment. By using consistent cutting speeds, combined with proper coolant levels, we prevent overheating, equipment failure and thermal cracking. We also take advantage of the inherent power of our CNC machines to increase the metal removal rate without having to increase cutting speed.
Chatter – Eliminating chatter is always important for precision parts, but it becomes increasingly important when machining titanium. "Chatter" is when tools move erratically and forcefully back and forth, which cannot only damage the part being machined but the tools as well. Titanium is half as stiff as steel, so it can quickly amplify chatter. In fact, the average life of titanium milling tools is 45 to 90 minutes. To prevent chatter, we make sure all of the surface connections between tools and tool holders are secure, and we replace our tools at the first sign of wear. Quickly replacing our cutting tools ensures accuracy while preventing cascade failure from chatter.
Reading Plastic Delivers Precision Titanium Milling
One of the most important qualities of a titanium machine shop is patience. Skilled machinists know that quality titanium parts are achieved through consistent cutting speeds, sharp tools and strategic processes. At Reading Plastic, we deliver your precision parts on time and help you stay on budget. If you need dependable titanium parts, contact us today at (610) 926-3245 or site2@readingplastic.com.