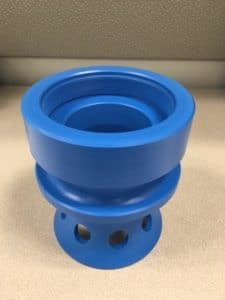 Fiber-reinforced plastic is a composite material wherein a polymer is reinforced with fibers to enhance or add properties. These fibers are typically glass or carbon, although aramid, basalt, and even wood and paper have been used. Fiber reinforced plastics are commonly used in aerospace, automotive, marine, and construction industries because of their corrosion resistance and low weight-to-strength ratio.
Thermoplastic Fiber-Reinforced Plastics
Thermosets are more commonly used in fiber-reinforced plastics due to lower costs, but thermoplastic resins offer higher performance and can withstand temperatures up to 400ºF or more. Thermoplastics also offer higher compressive strength, better toughness/damage resistance, reduced hydrolysis, greater impact resistance, high vibrational damping, and take less time to process than thermosets.
4 Popular Fiber-Reinforced Plastics
Acetal – This high-strength, low-friction engineering plastic has excellent wear properties in both wet and dry environments and good chemical resistance. Acetal is easy to machine and can hold complex, tight tolerances, making it a popular choice for pump and valve parts, jigs and fixtures, electrical components, and bearings. It is available in glass-filled grades as well as a PTFE-fiber reinforced blend to provide superior lubrication characteristics.
PEEK – One of the most popular thermoplastics, PEEK is an excellent choice for applications that require superior thermal, chemical, and combustion properties. It has excellent chemical, fatigue, creep and stress-crack resistance, as well as very low moisture absorption and a continuous service temperature of 500ºF. Glass-fiber-reinforced PEEK has a reduced expansion rate, increased flexural modulus, and excellent electrical and thermal insulation characteristics. Carbon-fiber-reinforced PEEK has the highest strength and stiffness properties; outstanding wear resistance and load-carrying capabilities; and higher thermal conductivity.
Nylon – Great physical properties and a reasonable price make nylon one of the most versatile and widely used thermoplastic resins. Nylon's impact, corrosion, chemical and abrasion resistance, along with its low coefficient of friction, makes it a popular choice for replacing metal gears. Nylon gears reduce noise, use less lubrication, and increase gear life. Glass-reinforced nylon is perfect for applications that require higher compressive strength and rigidity.
PTFE – Better known as Teflon®, PTFE is a remarkable polymer with a large operating temperature range, high flexural strength, high electrical resistance, and one of the lowest coefficients of friction against any known solid. PTFE is also highly flexible, hydrophobic, and almost totally chemically inert. Since pure PTFE can deform under load, fillers are often used to increase strength and prevent deformity. Fillers are also used to improve abrasion resistance and add electrical conductivity, depending on the application.
Reading Plastic: Your Experts in Fiber-Reinforced Plastics
Choosing the right plastic is the first step to creating a successful product. At Reading Plastic, our plastic experts will help you choose the right fiber-reinforced plastic for your application, then machine and fabricate your parts with precision to meet your tight-tolerance requirements. Call us today at 610-926-3245 to get started on your next project.