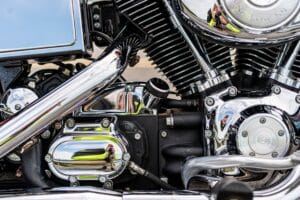 Your metal parts demand precision manufacturing from industry experts. Our Metal CNC Shop has the state-of-the-art equipment and in-house expertise to take your project from start to finish on time and on spec. When it comes to our metal CNC services, we demand nothing short of excellence. Our expert programmers and machinists, cutting-edge equipment and impeccably maintained facilities are ready to produce your durable, precision metal parts with the tightest tolerances on the market.
Computer Numerical Control, better known as CNC, machining is an excellent way to ensure a high degree of accuracy and repeatability. With shorter lead and production times than injection molding and the ability to economically produce both small and large orders, CNC manufacturing delivers custom, precision parts quickly and affordably.
In addition to our advanced computerized programming, we employ unmatched quality control and best practices, like consistent cutting speeds, tool sharpening and strategic processes, to guarantee that our metal parts meet the highest standards. 
The Best in Metal CNC Manufacturing
Reading Plastic & Metal is an experienced manufacturer of precision parts from aluminum, brass, copper, stainless steel, and titanium. Our metal CNC processes include milling, turning and grinding.
CNC milling uses rotating, multi-point cutters to remove excess product and shape precision parts, such as metal tools, brackets and three-dimensional surface contours. A CNC mill utilizes a specifically designed computer code to oversee and control the process. CNC milling creates higher accuracy and production rates than traditional manual milling.
CNC turning uses a single-point or multi-axis lathe to remove undesired materials from rotational parts or adds features to metal components to enhance precision. At Reading Plastic & Metal, we specialize in multi-axis lathe work.
The CNC grinding process uses a rotating wheel to remove excess metal and ensure precision finishing. CNC grinding is commonly used to create ball bearings, camshafts, transmission shafts, and other cylindrical-shaped parts.
Find Out Why Our Metal CNC Services Are Top Rated
Using our advanced CNC manufacturing processes, we machine precision metal parts with a high level of repeatability, no matter how large or small your project. When you need durable metal components with tight tolerances and fast turnarounds, Reading Plastic & Metal is ready to serve. Contact us today at (610) 926-3245 or site2@readingplastic.com to discuss your next project!