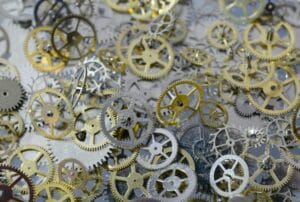 When you are searching for a company that can deliver high-quality, high-precision metal parts to fit your project needs, look to Reading Plastic & Metal. With over forty years of trusted service, we are one of the leading metal component manufacturers on the East Coast, and our central location is readily accessible to a third of the nation's population. Our hard-to-find combination of expert machinists and CNC programmers, state-of-the-art equipment, and commitment to quality and excellence enables us to produce the most precise metal components with the tightest tolerances and fast turnarounds.
Our CNC Metal Shop offers milling, turning and grinding services to achieve the exact specifications and durability that your metal parts demand. We machine and deliver precision parts from: 
aluminum

brass

copper

stainless steel

titanium
Demand More From Your Metal Component Manufacturers 
Our CNC Metal Shop is committed to fulfilling your metal component needs from start to finish. Combining precision equipment, expert design, advanced materials and extensive hands-on knowledge, we work with you to find solutions to every project, big or small. We get it right, on time, the first time. 
Our stringent machining practices, including consistent cutting speeds, sharp tools and strategic processes, produce high-performance metal components with tight tolerances and fast turnarounds. The production and quality control of our machined metal components is ISO 9001:2015 certified, and our parts are lot- and batch-traceable to meet regulatory requirements. Our precision equipment and streamlined processes guarantee quality, repeatability and lower costs. In other words, our parts make your parts better.
For Quality and Precision, Trust Reading Plastic & Metal
Make Reading Plastic & Metal your one-stop-shop for machining precision metal components. Our decades of experience, state-of-the-art equipment and comprehensive services allow us to create solutions that make your metal parts better, offer the highest quality assurances and deliver exceptional results on-time. Moreover, we work to ensure your satisfaction beyond the end of the project because, at Reading Plastic & Metal, we are always here to support your advanced plastic and metal needs.
Have a project in mind? Don't wait, contact us today at (610) 926-3245 or email us at site2@readingplastic.com for metal components that make your parts better.