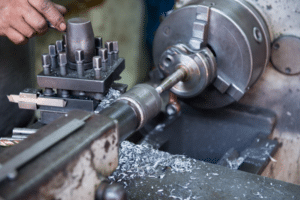 When your metal parts demand tight tolerances, Reading Plastic & Metal delivers. As an industry leader in metal CNC machining, we excel at producing durable, precise metal parts that meet the strictest standards. Our fleet of ultraprecise cutting tools and exceptional quality control equipment allow us to quickly produce hundreds to thousands of identical, precise parts. Our team uses computer-driven CNC milling machines to create advanced plastic parts with tolerances of +/- .001 and the surface finishes as smooth as 15Ra. Looking for "metal milling near me"? Reading Plastic & Metal delivers guaranteed.
CNC Metal Machining
As an experienced CNC metal machining company, Reading Plastic can deliver precision parts from aluminum, brass, copper, stainless steel and titanium. Our metal parts are machined with the same tight tolerances and fast turnarounds our plastic parts customers count on, as well as economical processes that streamline production and lower costs. We utilize the best machining practices – including consistent cutting speeds, sharp tools and strategic processes – to ensure all of our metal parts meet the strictest quality standards.
CNC Milling
CNC milling machines utilize a cutting tool that moves on multiple axes – vertically, horizontally and diagonally – to create unique shapes, slots, holes and details in a part. This versatility allows them to handle projects with varying complexities and parameters while still delivering the utmost precision. And because CNC machines are computer controlled, they provide superior accuracy and reproducibility. This ensures each part will meet your specifications every time, no matter the size of the run or how close the tolerances.
CNC milling services are distinct in the geometries and surface textures they can render, allowing them to deliver some of today's most intricate parts. They can also hold extremely tight tolerances for many key aspects of a part (diameter, true position, profile and flatness). It allows for the creation of a wide variety of complex parts, such as ball joints, brackets, spindles and much more. CNC milled parts can be found in a range of applications and industries, including:
Aircrafts and aerospace
Check valves
Electronics
Fittings
Food and beverage processing
Housings and assembly units
Medical
Mounting brackets
O.E.M.
Prototypes and custom designs
Sanitation and water treatment
Technology and security
Telecommunications
Transportation and automotive
and much more!
"Metal Milling Near Me"? Reading Plastic & Metal is the Answer
No matter how complex the part or demanding the application, Reading Plastic & Metal can engineer a solution. Have a project in mind? Contact us today at (610) 926-3245 or site2@readingplastic.com.