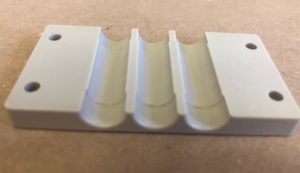 PEEK is one of the best high-performance plastics on the market, with a unique combination of outstanding properties that make it incredibly strong and dimensionally stable both under load and in the harshest environments. It is also one of the most expensive polymers available. At a cost of $4,500 per pound, PEEK is 5 to 8 times more expensive than other high-end polymers. So when it comes to PEEK plastic machining, it is important to choose an experienced company who can avoid waste and meet your specifications.
Why PEEK?
Although PEEK is expensive, material cost is only one factor to consider when manufacturing a part. PEEK offers long-term savings due to its durability, strength, and high temperature resistance, outperforming and outlasting other polymers. PEEK's superior properties include:
High temperature resistance – The melting point of PEEK is over 700ºF and it can operate in 500ºF temperatures without deforming. The hardness of PEEK allows it to run in high-load-high-temperature environments without loss of dimensional properties.
High strength – When it comes to sheer strength, PEEK stands unmatched against other polymers. It has the highest tensile strength, 16,000 psi, and flexural strength, 25,000 psi, of high-performance polymers. PEEK is perfect for applications where metal cannot be used (such as gasketing and auto components) but a metal-like durability is necessary.
High wear and abrasion resistance – PEEK is capable of withstanding wear effects even under harsh physical and chemical conditions.
Outstanding chemical resistance – Resistant to many harsh chemicals, PEEK can be used in corrosive environments under heavy loads. Unfilled PEEK offers broad chemical resistance that approaches that of PTFE, but with far greater strength.
Other benefits of PEEK include:
Excellent fatigue, stress-crack, and creep resistance
Very low moisture absorption
Remarkable inertness
Radiation resistance
PEEK is also available in a variety of grades that offer enhanced benefits.
PEEK Plastic Machining vs. Molding
When it comes to manufacturing parts from PEEK plastic, machining is a better method than injection molding. Because of PEEK's high temperature resistance and high tensile strength, it machines more like a metal than a polymer. This makes injection molding a difficult and costly process. Injection molding tools are expensive and time consuming to make, and they can only produce a few hundred PEEK parts before having to be replaced. Additionally, if PEEK is not annealed properly, different areas of the material will react differently to the stress being placed by the tool. This causes cracks to develop and the dimensional stability of a batch of components can vary significantly.
In its solid state, however, PEEK is readily machinable by CNC milling machines. PEEK plastic machining is the preferred option in most high precision applications, especially when the components need to deliver excellent mechanical and wear properties.
Reading Plastic: PEEK Plastic Machining Experts
At Reading Plastic, our expert staff and state-of-the-art equipment can produce precise PEEK plastic parts that hold tight tolerances and can perform in the most demanding applications. Our exacting quality control standards avoid costly material waste and ensure your parts meet your specifications. For more information or to receive a quote, call us at 610-926-3245 or send an email to site2@readingplastic.com today.