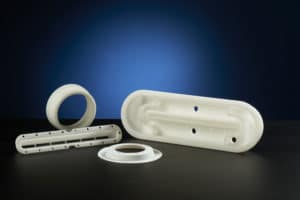 Certain industries require tight tolerance machining. In the fields of aerospace, medical equipment, military, oil & gas and more, plastic parts often must hold tolerances of +/- .001" or better to meet standards and perform well in their critical applications. Precision machining is the best way to achieve these tight tolerances, but if the part must be manufactured through an alternative method, machining can also be used to correct plastic part defects.  
As a provider of CNC services, we often provide secondary operations to get parts that have been injection molded or 3D-printed to hold the close tolerances required. In this blog, discover some common plastic part defects we correct through precision machining.
Common Plastic Part Defects: 3D Printing
Overly wide base layer. Often, a print's initial base layer is programmed with extrusion rates greater than 100% in an effort to ensure the part adheres to the bed. The result is an initial base layer that's wider than designed.
A highly noticeable defect, warping can occur during the curing process.
Poor surface finish (horizontal and vertical). When 3D-printed, certain plastics (ABS and PLA, for example) have a reputation for poor surface finish, and most 3d-printed parts must be post-processed to correct this issue.
Anyone who's ever designed 3D-printed parts has dealt with overhangs. While the parts can be positioned to prevent overhangs or supports can be provided during printing, in most cases overhangs must be corrected after completion.
Z-Wobble. Improper machine calibration and/or out-of-tolerance mechanical components result in this "wobble" phenomenon that causes defects.
Bridging. A "bridge" is a flat section that crosses an open span in the plastic part. Bridges are difficult to achieve over long spans, and sagging is a common defect.
Stringing. This defect is common when a part consists of a lot of negative space. It is quite literally when the material distorts into strings across the negative space, which can be difficult to correct in secondary operations.
Common Plastic Part Defects: Injection Molding
Warping. This can occur when the cooling rate is inconsistent.
Bubbles. As with warping, bubbling can occur as a result of a non-uniform cooling rate, or from too much moisture or too high an injection temperature.
Ejector marks. The part may not have been given enough time to cool, or the force of ejection may have been too great.
Unfilled section. Likely, the shot volume was insufficient or the flow rate of material too low.
Sink marks. This defect can arise from a non-uniform cooling rate or an injection pressure that's too low.
Excess material around the edges of the part, flash results from excessive injection pressure or insufficient clamp force.
We Correct Part Defects
If you require high-end parts that hold tight tolerances, you've come to the right place. We can perform secondary operations to get your parts where they need to be. Reach out today at 610-926-3245 to start talking solutions.
With our precision machining expertise, we're confident we can adjust your manufacturing methods to yield better results more efficiently.