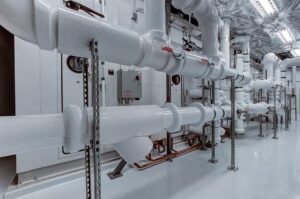 Polyvinylidene fluoride (PVDF) is a thermoplastic that is commonly used in pipes and fittings to satisfy plumbing needs across many industries. Commonly referred to as Kynar®, PVDF's superior properties make it suitable for use in piping that carries a range of products from purified water, consumable liquids and pharmaceutical compounds to petrol, acids and other harsh chemical solutions. PVDF pipe manufacturers must have the know-how and expertise produce a precision product that can provide lasting solutions for whatever is being transported in the piping system.
PVDF can withstand even the most corrosive materials­–it is resistant to chlorine, bromine, alcohol, aromatics, and most acids. Its superior thermal properties allow it to maintain integrity from -40º F to 250º F (with an additional 50º of limited operational usage). Moreover, this high molecular weight fluorocarbon has strong dielectric properties, mechanical strength and abrasion resistance. This sought-after combination of strength and resistance make PVDF a true wonder plastic.
PVDF Pipe Manufacturers – What to Look For
High-performing, specialty plastics are the backbone of many industries, including oil and gas, food and beverage, and medical and pharmaceuticals. These sectors rely on parts that meet their stringent standards and provide dependable, no-fail service. PVDF offers the strength, reliability and quality to create products that meet these needs. It is critical to find manufacturers that can machine PVDF pipes and fittings to exact specifications with the tightest tolerances and a high level of repeatability.
Another important aspect of PVDF plumbing is the joining system. All piping and fittings must be joined through a fusion joining system to ensure fully sealed connections. A qualified manufacturer will have the state-of-the-art equipment and expertise to create seamless plumbing for your project.
Reading Plastic & Metal Knows PVDF Pipe
PVDF is an in-demand specialty thermoplastic due to its non-reactivity to many different factors, such as chemical, thermal, mechanical, and biological stressors. Manufacturing PVDF parts requires extreme precision to guarantee that the product delivers a seamless, no-fail solution for your project.
Reading Plastic & Metal has over forty years of experience and expertise in delivering precision plastic parts that make your parts better. We are with you every step of the way, from project planning to post-installation support, to ensure that your product is produced on time and to on spec. Our work on high-performance thermoplastics like PVDF delivers a product that is exact, durable and guaranteed to meet or exceed your expectations.
When you demand precision specialty plastic parts with tight tolerances, Reading Plastic & Metal is the only call you need to make. Contact us today at (610) 926-3245 or site2@readingplastic.com to discuss your next project!