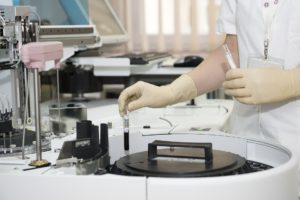 At Reading Plastic, we are doing our part to help prevent the spread of COVID-19 by continuing to manufacture vital parts used by medical workers, first responders and others who are on the front lines fighting this pandemic. We work with several key companies to produce the essential tools and products health professionals need at this time. Now more than ever, healthcare workers need to be able to trust they are receiving the high quality products they require and deserve, in as timely a manner as possible. As an experienced manufacturer specializing in tight tolerances, we are able to produce dependable, high-performance parts that meet exacting FDA standards and keep both patients and medical professionals safe.
Companies Rely on Reading Plastic for Critical Components
Among our clients are companies that produce:
Equipment used to apply disinfectants that are designated by the EPA for use against Covid-19
N95 respirators and other respiratory protection equipment
Instruments that protect HEPA filters and keep the air clean in biosafety cabinets and cleanrooms, protecting the vaccines, anti-viral medicines and other critical medications contained therein
Instruments that ensure the safety and efficacy of biosafety cabinets being used by researchers who are developing diagnostics, medicines and vaccines to detect, treat and prevent Covid-19
We are working hard to ensure there is an uninterrupted supply of these vital products to hospitals, FEMA, nursing homes, and other healthcare providers around the world.
We also provide parts to companies that maintain and repair critical communications facilities that are necessary to ensure first responder, emergency responder, public messaging, and 911 communications remain functional during this period of National Emergency.
The US Government has identified 16 essential critical infrastructure sectors during COVID-19, including:
Communications sector
Critical manufacturing sector
Emergency services sector
Energy sector
Food and agriculture sector
Healthcare and public health sector
Information technology sector
Nuclear reactors, materials, and waste sector
Water and wastewater systems sector
— and we build parts for them all!
Reading Plastic: Your Trusted Partner in Challenging Times
In these challenging times, you need an experienced partner who can help you meet critical demands to keep infrastructure up and running. At Reading Plastic, we have been machining and fabricating parts for medical use and other key applications for decades. Our experienced staff and state-of-the-art equipment are here to help you navigate the challenges of supply and demand.
As an essential business, we will continue to operate at full capacity in order to deliver high-quality parts quickly. We are conveniently located just outside Philadelphia and New York City, and within a day's drive of one-third of the U.S. population, allowing us to deliver parts quickly. We can also fabricate your parts, delivering ready-to-use to speed the process.
If you need critical medical components, contact Reading Plastic today at 610-926-3245 or email site2@readingplastic.com.