Stainless steel is one the most popular industrial alloys due to its excellent physical properties, such as high heat and impact resistance, excellent durability, and good temperature performance. At Reading Plastic, our expert machinists and fleet of advanced machinery allow us to produce high-quality, dependable stainless steel CNC parts for a wide variety of applications and industries.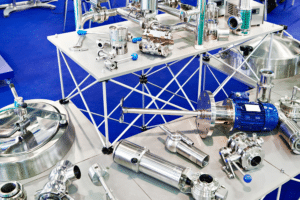 Benefits of Stainless Steel
So, why choose stainless steel for your CNC machining needs? Here are a few of the benefits of stainless steel:
Exceptional corrosion resistance: Stainless steel contains at least 10% chromium, which creates an immaculate surface finish. Because it doesn't rust or corrode like regular steel, it is perfect for applications with high moisture or humidity
Excellent heat and impact resistance: Stainless steel delivers top-notch performance at both high and low temperatures.
Multi-industry usages: Stainless steel parts can be found in nearly every industry, including aerospace, automotive, medical and military. Popular applications of stainless steel parts include:

Medical devices and equipment
Hospital and lab instruments
Marine parts
Automotive parts
Engine parts
Electronic parts
Pressure tanks
Storage containers
Stainless Steel CNC Machining Services
We offer a full range of precision CNC machining services, including turning, milling, routing, and cutting. Our CNC turning services specialize in multi-axis lathe work that holds tight tolerance standards, up to .001". We use the latest CAD/CAM techniques and software to produce world-class precision-turned parts with supercharged efficiency. We also offer precision threading in ANSI, ASME, metric and variable pitch threads.
Our CNC milling machines are capable of complex geometries, extremely tight tolerances, and surface finishes as smooth as 15Ra. We can also perform secondary post-milling operations, such as finishing through-bores and adding threads, to help save you time and lower production costs. Fast cycle times and consistently accurate results are the hallmarks of our CNC routing services. We can meet your specifications, no matter how complex the design or challenging the material. Our high-speed CNC saws combine ultra-fast cutting speed with pinpoint accuracy for precision cuts every time. We can process materials up to 128" in length and deliver perfectly-shaped pieces ready for the next step of machining.
Trust Reading Plastic & Metal for Stainless Steel CNC Parts
As a high-end machine shop, Reading Plastic & Metal offers a full range of CNC machining services for a wide range of demanding materials, from stainless steel and titanium to the most technical advanced engineering plastics. If you have a project in mind, call us today at (610) 926-3245 or email site2@readingplastic.com. We look forward to working with you!