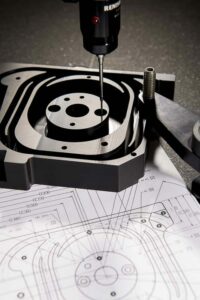 As an industry leader in tight tolerance CNC machining services, Reading Plastic can deliver durable, dependable and precise plastic parts for the most demanding applications. While extremely tight tolerances aren't necessary for every part, there are certain scenarios where a high degree of precision is absolutely necessary. Our clientele – particularly in the military and aerospace industries – knows they can depend on us for highly precise machining.
Why are Tight Tolerance CNC Machining Services Important?
Tolerances are used to control the variations that are inherent in all manufactured parts, ensuring greater consistency and proper performance from these parts. Tight tolerances are especially important when parts have to interact with other parts – such as in mating parts of an assembly – because there is a high potential for tolerance accumulation. Precision machining ensures parts will be compatible with other components, giving greater consistency and smoother function. An additional benefit is that this permits interchangeable parts, allowing you to replace individual parts rather than a whole assembly.
What Affects Tolerances?
Tolerances can be affected by part design, material selection and manufacturing method. Part design can have the biggest impact on tolerances, and improvements during the design phase can not only help achieve tight tolerances but can improve manufacturability, quality and customer satisfaction as well. That is why we offer design services to help you get the most from your parts. Our experts know that round parts hold tolerances better than flat parts and that the larger a part is, the harder it is to hold tight tolerances. Our expertise makes your parts better.
We also consider the thermal properties of the plastic as well as how demanding the end-use environment will be. Most plastics have high thermal expansion rates, which means they can hold tight tolerances in a climate-controlled environment, but when exposed to high and low temperature extremes, they can expand and contract out of tolerance. Fillers can be used to control thermal expansion and there are plastics that resist thermal expansion which may be a better choice for your application. An experienced tight tolerance CNC machining service understands the different tolerances each plastic can hold and can help you choose the best specialty plastic for your application.
How Does Reading Plastic Achieve Tight Tolerances with CNC Machining Services?
Our ability to machine tight tolerance parts is due in part to our expert staff and partly to our fast, reliable machines. We have a fleet of state-of-the-art machinery that allows us to deliver unmatched precision even while slashing cycle times and expanding a parts' complexity. And because we offer CNC milling, turning, routing and die stamping, we can use the manufacturing method that is best suited to the part.
With our ultra-precise cutting tools and nearly four decades of experience, we can achieve the tight tolerances your project demands. Have a project in mind? Call us today at 610-926-3245 or email site2@readingplastic.com.